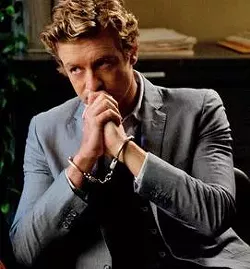 The Mentalist, not Jordan Harper
Jordan Harper
left
Riverfront Times
a few years back for New York City where his now wife was attending graduate school.
Our former music editor (read some of his
writings here
) has now transplanted once more. This time he's in Los Angeles where he's landed a writing gig on CBS's hit show
The Mentalist
.
Tonight's episode -- we're told -- will be the first with Harper given a lead-writing credit. (Air time, 9 p.m. on Channel 4 KMOV.)
If you haven't seen the show (or perhaps confuse it with Fox's
Mental
), here's what
Time
magazine writes about it:
The Mentalist works because it's such an elegant example of its kind; if it's comfort food, it's prime-grade meat loaf. Much credit goes to the sly scripts, overseen by Bruno Heller (HBO's Rome), which take the viewer to familiar places by clever routes, providing a jocular corrective to the relentless noir gore of CSI et al. The mysteries are engaging but not byzantine; you can probably figure out the culprit just a step before Jane does. And who doesn't want a handsome man to make him or her feel smart?