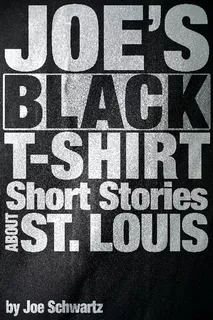 That's his
work
, you dirty-minded fools.
Joe Schwartz
, as some of you may recall, is an employee of the
St. Louis Public Library
who self-published his first short story collection
Joe's Black T-Shirt: Short Stories About St. Louis
last August. He planned to sell the book at readings around town and in an online e-book edition for $11.56.
The truly cheap could check the book out from the library, which purchased seventeen copies, including one which it enshrined in Special Collections.
But now the cheap
and
lazy can download
Joe's Black T-Shirt
for free.
The New York Times
reported
two weeks ago that more than half of Amazon.com's Kindle e-reader best-sellers were free downloads. Publishers are hoping that by giving the books away, they can hook new readers who will then spend money on the author's other work.
Schwartz hasn't published a second book yet, although he's at work on a novel.
In the meantime, head on over to
Scribd.com
where you can print out
Joe's Black T-Shirt
or download it as a PDF or text file.