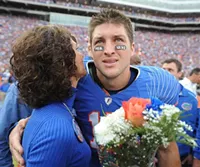 Pam Tebow and the son she chose not to abort, Heisman Trophy-winner Tim.
By now you've read about the
kerfuffle
over Tim Tebow's Super Bowl ad, the one where he and his mom Pam talk about how, when she was pregnant with Tim, she refused to have an abortion for health reasons. You've probably also read that the Christian group
Focus on the Family
will be footing the hefty bill and that feminist groups have been petitioning, unsuccessfully, for CBS to pull the ad and facing accusations of supporting censorship.
Planned Parenthood
can't afford the million bucks it takes to buy airtime during the Super Bowl, but it has created its own video response former Olympic gold medalist
Al Joyner
and Minnesota Vikings running back
Sean James
. Since Joyner grew up in East St. Louis and James played college ball for Missouri State, we're claiming 'em.
In the ad, James and Joyner talk about how they support Mrs. Tebow's decision to continue her pregnancy. Says Joyner: "I want my daughters to live in a world where everyone's decisions are respected." James adds: "We're working toward a day when every woman will be valued, when every woman's decision about her health and her family will be respected."
In a statement that accompanied the announcement of the ad, Planned Parenthood president Cecile Richards wrote:
If Focus on the Family, the sponsor of the ad about the Tebow family, has its way, millions of women would no longer be able to make important personal medical decisions for themselves and their families when it comes to abortion. Focus on the Family's long-stated goal is to outlaw abortion except in rare cases when the woman's life is severely at risk. This is an extreme position, which would rob every woman of the ability to make important personal medical decisions for herself and her family....

Planned Parenthood urges all Americans to ponder the true meaning of the Tebow family's experience -- one in which a woman was presented with medical and moral considerations and made a deeply personal decision in private without government interference.