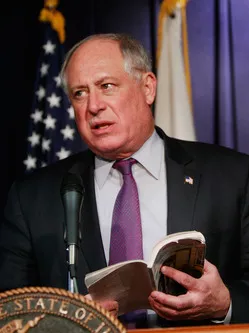 The contest between Gov. Pat Quinn and Dan Hynes has grown increasingly acrimonious.
Another dark blue state is in play today, coming on the heels of last month's Democratic disaster in Massachusetts, a special election that probably still has Ted Kennedy turning in his grave.
The big story is whether Gov. Pat Quinn can survive the challenge from hard-charging Dan Hynes, the state's comptroller. The campaign for the Democratic nomination has grown increasingly bitter -- and tighter. Recently, Hynes took to the airwaves with a TV ad that showed 1980s footage of Harold Washington, Chicago's first African-American mayor, calling Quinn "a totally and competely undisciplined individual."
Hyne's attack came after Quinn -- who last year took over for the disgraced Gov. Rob Blagojevich -- accused Hynes of showing a callous disregard for the dumping of human remains at a historic black cemetery.
Quinn's campaign hopes the cemetery assault resonated with black voters, a critical constituency for him, and will encourage them to turn out in force. Recent polls have showed Quinn trailing Hynes among the black electorate, who comprise nearly one-third of the statewide Democratic primary vote.
Low turnout could doom Gov. Pat Quinn's chances of winning the Democratic primary this evening
Quinn's political fortunes, to a large degree, hinge on a large turnout. City election officials, the
Chicago Tribune
reports, said turnout was "extremely low," in the first hour of voting this morning. Polls close at 7 p.m.
In the Democratic Senate contest, front-running state Treasurer Alexi Giannoulias is betting the farm on a high turnout in Cook County, the traditional well-spring of Democrat support in the Land of Lincoln. But Chicago Urban League CEO Cheryle Jackson has a good outside shot of taking President Obama's old seat if she can secure a significant portion of the black vote.
Bottom line: High black turnout bodes well for Quinn and Jackson.