As
Post-Dispatch
columnist
Bernie Miklasz noted
on Sunday, three bidders remain in contention for the St. Louis Rams.
One of the team's suitors,
Dave Checketts
(owner of the St. Louis Blues) is committed to keeping the Rams in St. Louis. The other bidders probably do not have the same loyalty.
At least one bidder is from Toronto, according to Miklasz. And while Toronto could certainly be a good match for the Rams, a far more likely choice is Los Angeles. Now there's this: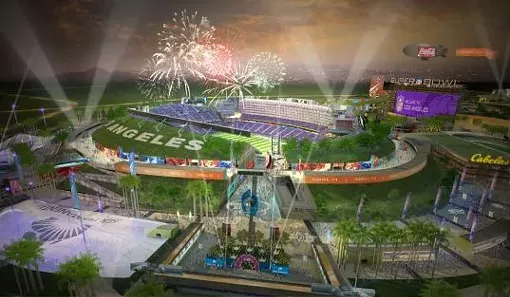 inhabitat.com
Rendering of the LEED-certified Los Angeles football stadium.
The National Football League desperately wants a franchise in the nation's second-largest market. Moreover, the Rams called L.A. home until they were lured here in 1994 and still have fans in California. But perhaps the biggest threat to moving the Rams to Los Angles is the
kick-ass stadium
(above) proposed for the southern California town of Industry City.
This from an article today on the architecture site
inhabitat.com
:
Designed by Aedas, a global architecture firm, the Los Angeles Stadium might be finished as early as the 2011 football season, although what NFL team will make its home there is still unknown. Aedas has designed the eco stadium to be a multi-purpose venue and has also included a significant commercial and entertainment sector. With smart design, reduced CO2 emissions and major recycling initiatives, the LA Stadium will be a great boon to the city.

The Rams current agreement with St. Louis states that its stadium must be in the top-tier of NFL stadia following the 2014 season or the team is free to move to another city.