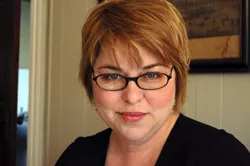 The good news is that there's now someone out there on the Internets making an effort to find good news about an area that's known for bad news.
The dedicated soul is Shannon Howard, a Florissant native who left the area, lived in Los Angeles and Knoxville for fourteen years and recently returned to buy a house in Ferguson, where she is now very active in the community. Yes, she swapped the oceans, climate and comfort of L.A. (and good moonshine of Tennessee) to live in Ferguson. That alone ought to give you a sense of her dedication to "NoCo," as she has dubbed it.
An author and journalist, Howard says she created
nocostl.com
as a way to "promote all of the positive things that are happening in North County and to hopefully change some minds about what this area really has to offer."
So what does North County
really
have to offer?
Reading her "
Monday News Clips
" it seems like quite a lot, actually.
For instance did you know that:
The battle over Bridgeton's proposed Wal-Mart Supercenter has made national news. This weekend, the Huffington Post ran an article questioning why the country's 117th richest person, billionaire Stan Kroenke, needs to request nearly $8 million in tax increment financing (TIF) to fund his new development. "Given the foul mood the public is in regarding bail outs for the rich, it's a wonder this proposal has any legs left," wrote the article's author.

Or that North County has its very own astronaut? It's Pattonville High grad Robert Behnken, an Air Force Lt. Colonel, who will soon be making his second trip to the space shuttle Endeavor. Howard is even asking Behnken on her site if he wants to rep his native region in outer space, offering him a "NoCo" sticker to slap on the side of the space shuttle.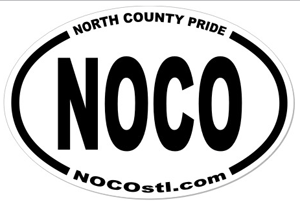 Whether Howard's upbeat brand of civic pride catches on or not, the stickers are a fantastic idea. The only problem is when South County gets wind and adopts
SoCo
as their catchphrase in addition to their drink of choice.