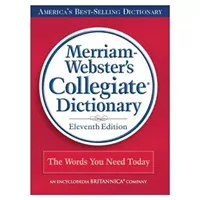 Look out, kids, it's a dirty book!
One of the easiest ways to educate oneself about unfamiliar terms is to look them up in the dictionary. For many kids, sexual practices fall under the category of "unfamiliar terms". Last week, the Menifee, California, school district banned Merriam-Webster's Collegiate Dictionary after a parent called to complain that an elementary-school student had used it to find out the meaning of the term "oral sex."
The Menifee Union School District, which is supposed to educate students from kindergarten through eighth grade, is now debating whether the ban should be made permanent.
The
Daily RFT
, a great fan of Merriam-Webster since the days when some of our reporters flipped through its pages to look up words like "impotent" and "fellatio", wondered if overcautious St. Louis parents had gotten wind of the goings-on in Menifee.
If they have, they haven't bothered to demand their own ban.
"I have not heard that," says Patrick Wallace, a spokesman for the St. Louis Public Schools and a self-described handsome guy. "It hasn't come across my desk."
Reports the Riverside, California, Press-Enterprise:
A memo from the district's assistant superintendent for curriculum and instruction this week called the Merriam-Webster dictionary a respected resource but noted district officials found that "a number of referenced words are age-inappropriate."



Efforts to ban the dictionary are rare, but not unheard of, Joan Bertin, executive director of the National Coalition Against Censorsh
ip told the
Press-Enterprise
. In the 1970s and early 80s, the American Heritage Dictionary was attacked in several states, including Missouri.
"
Normally people only use a dictionary to look up a word they have heard or read, which means they have been exposed to the word and are trying to understand," Bertin said.
"This is an example of parents overreacting because of their own personal perspective on what the word reveals and what it means. They don't want their kids to know this happens."

Students in Menifee can still use elementary dictionaries to look up troubling terms. You know, the kind with big print and pictures.