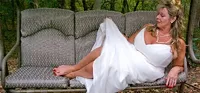 Cougar and conservative Teri Davis Newman: Can she claw her way to Congress?
GOP
voters in Illinois'
12th Congressional District
get to vote in a primary tomorrow to select the nominee who will try to unseat Democratic congressman
Jerry Costello
in the November general election.
As
we told you
a week or so ago, vying for the nomination are
two women of a certain age
:
Theresa Kormos
, a nurse, and
Teri Davis Newman
, a
Riverfront Times
Ask A Cougar!
columnist also-ran.
A
Daily RFT
poll may be no harbinger of election turn-out...but popular opinion? Hell, yeah!
As of now, the cougar expert leads in our unscientific poll. And your vote counts.
So exercise your right, and tell America whether conservative cougars should represent us on Capitol Hill!