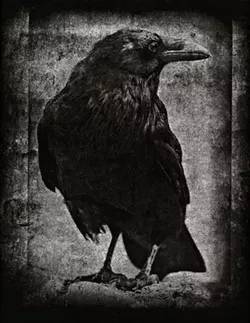 The common blackbird is often cited for many of the collisions at Lambert Field.
The
Associated Press recently reported
that bird-plane collisions across the United States rose dramatically last year with nearly 10,000 documented incidents -- up from a previous high of 7,507 strikes in 2007.
In some states, such as Texas and Minnesota, the number of bird-plane collision has doubled since 2005 thanks to increases in air traffic along bird migratory routes.
Closer to home -- and not mentioned in the AP's coverage -- bird-plane collisions at Lambert-St. Louis International Airport have
increased nearly 300 percent
over the past decade.
According to the Federal Aviation Administration's
Wildlife Strike Database
, flight crews departing or arriving Lambert Field reported just 172 bird-plane collisions between 1990 and 2000.
The number of similar strikes skyrocketed during the decade just ended. From January 2000 though August 2009, flight crews reported some 485 bird-plane collisions at Lambert -- an increase of more than 280 percent over the previous decade. And that figure doesn't count the last three months of 2009.
So, what's the reason for the increase?
Jeff Lea, spokesman for the St. Louis airport, tells
Daily RFT
one reason is that airlines and airports have been much more diligent about reporting bird strikes in recent years, especially after last January's
"Miracle on the Hudson"
in which a U.S. Airways flight leaving New York hit a flock of birds and landed in the Hudson River. Miraculously everyone aboard that flight survived.
"There was definitely a heightened sense of awareness after that," says Lea, who adds that the St. Louis airport works with the USDA to manage habitat such as tall grass and trees that would attract birds. But as it's impossible to regulate where and when birds choose to fly, much of the issue is out of the airport's control.
"The airlines have to report an airport involved with the collision, though it could be that plane struck the bird far outside the airport's boundaries during lift off or decent," says Lea.
No airplane leaving or arriving Lambert Field has crashed as a result of hitting birds (at least not during the 20 years the FAA has been tracking such incidents in its database), though a few aircraft have had to abort take-off or make precautionary landings.