With weather like this (in the low 20s), many St. Louisans may find themselves searching the web for airfare discounts to milder climates. But if a flight to the tropics is outside your budget, here are ten inexpensive alternatives guaranteed to warm up your weekend. TGIF. (Here's the
weekend concert calendar
.)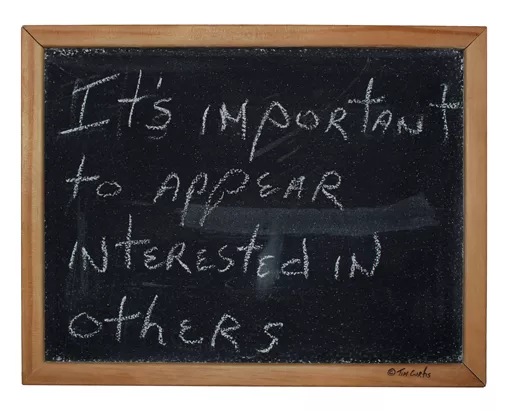 Image: Tim Curtis
Tim Curtis: See How My Mind Works opens with a free public reception from 6 to 8 p.m. Friday at Craft Alliance Grand Center in Midtown.
Tim Curtis: See How My Mind Works at Craft Alliance Grand Center (Friday)
When you view a work of art you often wonder what the artist was thinking while making it. When you view Tim Curtis' work you know exactly what he was thinking, but it doesn't necessarily bring any greater understanding of why he did it -- and that's a curious frisson. For his new show
Tim Curtis: See How My Mind Works
, Curtis has covered the walls of the gallery with small chalkboards, each bearing a brief statement written in a clear hand. The opening reception is Friday at Craft Alliance Grand Center (501 North Grand Boulevard) and it's
free
.
Read the rest of Paul Friswold's preview here
.
The Wilders play Friday night at Off Broadway.
The Wilders at Off Broadway (Friday)
With its good-timey, swinging style, the Wilders picks up where BR5-49 left off. The band raids the classic (as in pre-rock & roll) rockabilly and honky-tonk songbook, with an affection for '40s Nashville fashion, catchy original novelties, hardcore hillbilly harmonies and wicked dobro and fiddle.
$10
at Off Broadway (3509 Lemp Avenue.)
Read the rest of Roy Kasten's preview here
.
THIN at UM-St. Louis-Gallery 210 (Friday and Saturday)
In her new multimedia exhibit
THIN
, the remarkable photographer (and chronicler of "girl culture") Lauren Greenfield explores the harrowing reality of living with an eating disorder. Through portraits, videos and written narrative,
THIN
introduces the viewer to women like Shelly, whose anorexia was so severe that she needed a feeding tube in her stomach. Simultaneously unsettling and thought-provoking,
THIN
is not to be missed by anyone who cares about the mental and physical health of women in our society.
Free
at UM-St. Louis-Gallery 210 (1 University Dr. at Natural Bridge Road, East Drive Bldg 44.)
Read the rest of Brooke Foster's preview here
.
Photo: Brea McAnally
Old Media/Old News shows this Friday at Saturday at the Luminary Center for the Arts.
Old Media/Old News at Luminary Center for the Arts (Friday & Saturday)
Newsprint might not be the relic that some would proclaim (fingers crossed), but it certainly has a different role in current-events reporting in this digital age. Examining how people receive the news as well as how artists incorporate current events in their art are the driving forces behind
Old Media/Old News
, a new exhibit at the Luminary Center for the Arts (4900 Reber Place; 314-807-5984 or
www.theluminaryarts.com
). The show, opening with a reception from 6 to 9 p.m. on Saturday, January 30, features work by both local and international artists, six in all, and showcases gouache drawings, poetry and even a sculptural film reel.
Read the rest of Alison Sieloff's preview here
.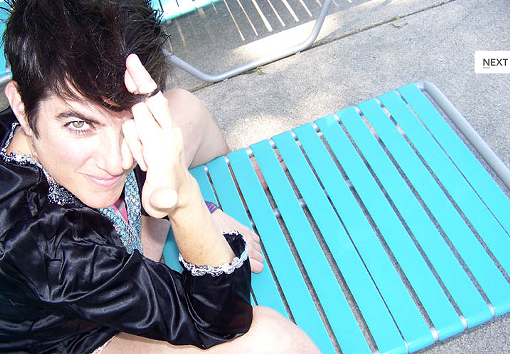 Photo: BilliE Jo Cavallaro
Bitch gets her bitch on at 8 p.m. on Saturday at Mad Art Gallery in Soulard.
Bitch and the Knock Down, Drag Out Show at Mad Art Gallery (Saturday)
Bitch got her start as half of the duo Bitch & Animal, an artsy folk-rock collaboration which made a few records for Ani DiFranco's Righteous Babe Records. Bitch & Animal were often pegged as a queercore band, a limiting genre label often used in reference to music aimed at a non-straight audience. But there's something all-inclusive about Bitch's solo work: Relationships are fucked up no matter who you love, and Bitch's newest songs speak to the heteros, the homos and everyone in between.
$10
at Mad Art Gallery (2727 South 12th Street.)
Read the rest of Christian Schaeffer's preview here
.
The Bone man himself, Tim "Boner" Bone.
Tim 'Boner" Bone at Donzo's Lounge (Saturday)
It's not often you hear the word "boner" used anymore. Don't tell that to the Bone man himself, Tim Bone, who's doing his stand-up act in refinery country -- Wood River, Illinois -- this Saturday night at Donzo's Lounge (8 East Ferguson Avenue.) Admission is
$10
. The show runs from 9 p.m. to 11 p.m. For more information call (618) 254-6615. Go for the irony, novelty or nostalgia for the times when boner was used more often.
This is not a photo from Iggy's.
Iggy's Grand Closing Party at Iggy's Mexican Cantina (Friday)
The sheer number of people -- more than 400 -- who've RSVP'ed to this college bar's final hurrah on
Facebook
as of this morning either show the sentimental value 20-somethings have for this bar (
RFT page for it is here
), or the fact that it's within stumbling distance from a fuzzy, warm dorm room. At any rate, This appears to be the place to go on Friday. Cover is $5 for those 21 and older and $10 for those 18 and older. Music by DJ Hot Trash. The party starts at 9 p.m. and Iggy's (3761 Laclede Street) closes down at 1:30 a.m.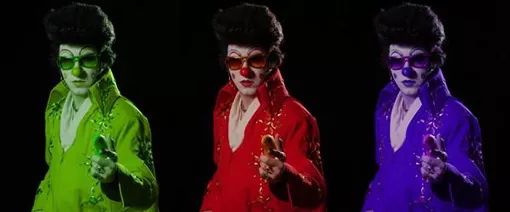 Clownvis -- there's just one of him -- debuts a new freakish show on Saturday night at Atomic Cowboy.
Clownvis Live! at Atomic Cowboy (Saturday)
While the clown-about-town Clownvis Presley has ended his gig as emcee of the "Freaker's Ball" at Atomic Cowboy, there's bigger news afoot: On Saturday, the Elvis-impersonating clown debuts his own show:
Clownvis Live!
at the Fox Hole (4140 Manchester), the new venue adjacent to the Atomic Cowboy. The show promises "New Antics! New Songs! New guest performers!" from the Freaker's Ball. The show runs from 10 p.m to 1 a.m. at the venue, but as usual, the
Atomic Cowboy is a 3 a.m. bar
.
Spoken Word Addict Unleashed at Bar Italia (Sunday)
Do you have words on paper, a message, that needs to be shared? Sunday at Bar Italia (13 Maryland Plaza) in the Central West End there's such an event, highlighting the issues that affect those in the African-American communities across America. It's sponsored by
The Radio Vibe
, which labels itself as "The Only Station Dedicated to Spoken Word and Neo-Soul," and the event runs from 7 p.m. to 11 p.m. on Sunday. There are more details on
the Facebook page
, but it looks like there are still open slots for speakers. Cover is just
$5
.
Don't get left behind when the weather finally warms up. The Midwest Bicycle Expo is this Sunday.
Midwest Bicycle Expo & Swap Meet at Gateway Center (Sunday)
On Sunday, hop in the car and head for Collinsville, Illinois for this winter bike expo. "With workshops on topics ranging from the Katy Trail to helmet fitting, and from biking with groceries to commuting by bike, this event will inform -- and it'll throw in some fun, too, with indoor stationary racing, vendors and more. The expo is organized by the St. Louis Regional Bicycle Federation at the Gateway Center (1 Gateway Drive, Collinsville, Illinois), and it runs from 10 a.m. to 3 p.m. Admission costs $6 to $8; call 314-707-5001."
Read the rest of Ms. Day's preview here
.