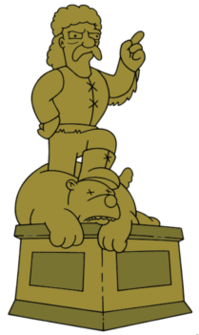 There's a Simpsons parallel in there somewhere...
The small community of Clark, Missouri, has actually
banished
someone from their town.
As the
Columbia Daily Tribune
tells it, 57-year-old
Rex S. Barstow, Sr.
, paid a teenager in May 2008 to knock over a recently-erected statue memorializing
Omar Bradley
.
Bradley was born in Clark and grew to be a WW II army general and the first chairman of the Joint Chiefs of Staff.
Barstow was sentenced January 20, and maintains his innocence, but through an apparently informal agreement has accepted his banishment from town. Randolph County prosecutor Stephanie Roberts told the paper that "technically...[banishment is] not an order the judge can give."
Of course, had this been 16th-century Verona, Italy, and Barstow a star-crossed-lover-turned-crime-of-passion-perpetrator from the Montague clan? Different story.
Very
different.