Watch the Bud Light "Clothing Drive" Commercial You Won't See During Super Bowl
Former hometown-owned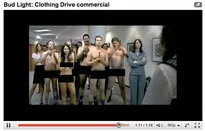 "I'd like to congratulate Sarah on running the most successful clothing drive ever."
light beer Bud Light shared this commercial -- which won't be aired during the Super Bowl -- on Tuesday on its
Facebook
page.
While not as racy as the
ad featuring a guy trying to buy porn
, it's still got plenty 'o black censor boxes. It's probably safe for work though.
What say you? Does it make you want to drink more Bud Light?
We're keeping you informed…
...and it's what we love to do. From local politics and culture to national news that hits close to home, Riverfront Times has been keeping St. Louis informed for years.
It's never been more important to support local news sources. A free press means accountability and a well-informed public, and we want to keep our unique and independent reporting available for many, many years to come.
If quality journalism is important to you, please consider a donation to Riverfront Times. Every reader contribution is valuable and so appreciated, and goes directly to support our coverage of critical issues and neighborhood culture. Thank you.