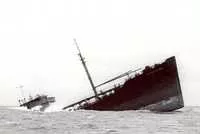 Wikimedia Commons
If the President capsizes, its gaming license could be given to a casino operating beyond city limits (and coffers).
Following press reports that the
Missouri Gaming Commission
plans to
vote today
to shut down the
President Casino
by July 1,
Mayor Francis Slay
yesterday threw his cards on the table by circulating a
sternly-worded missive
(that he also fired off to the commission).
Slay is upset that 241 people would be out a paycheck, and a raft of tax revenues would potentially drift from the cash-strapped city to another jurisdiction.
We're talking enough dough, says Hizzoner, to pay 40 police officers.
Moreover, the mayor blames the commission's staff for deliberately sinking this ship:
The owners of the President [Pinnacle Entertainment] have put forward ideas to improve the property and generate more revenues for the state. For example, they proposed a newer, better-equipped facility. Every proposal has been rebuffed by Staff. After throwing up obstacles to improvement, Staff now says it will attempt to pull the license because the President hasn't improved. It would be like your local government rejecting a permit to repair your house, then condemning your house because you didn't repair it.
Pinnacle also owns the nearby, every-bit-as-flashy-as-the-President-is-trashy Lumiere Place.
So. You'd be hard-pressed to argue that the President doesn't need at the very least a deep-clean. But what do you think: Should it be saved?