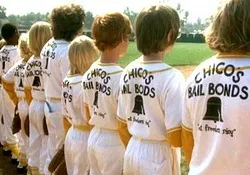 Image Via
Chico's Bail Bonds not licensed for business in St. Louis...yet
The
Post
-
Dispatch
has filed a few very intriguing dispatches lately chronicling the fishy goings-on between a local bail bond kingpin and a St. Louis Circuit Court official.
If you haven't yet read the stories (click
here
and
here
and
here
for the texts), or allow us to paraphrase the gist of the articles:
Mary Catherine Moran
is the pretrial release commissioner for
St. Louis City Circuit Court
. She
recommends
to the judges what types of bail bonds should be set for what defendants. Her job is one of a kind; in every other court in the state, judges decide on their own what the bail should be in each particular case.
Bob Block
is the biggest name in St. Louis bail bonds. His company was responsible for more than $3.6 million worth of bonds last year in the city alone.
The
Post
-
Dispatch
found out that somehow the bail bonds for eight different criminal defendants were changed -- without the knowledge of judges in the cases -- to benefit Block and their jailed clients. (Specifically, the bonds were changed from "split" or "cash" to "secured," technicalities that netted the bail company up to $5,000 in some instances.)
No one seems to know how this happened. Moran, the person who handled the paperwork, claims she doesn't remember which judge authorized her to make the changes. The FBI has launched an investigation and Block has been temporarily banned from doing business in the city.
Implicit in the
P-D
's stories is that someone received a little something on the side for helping out the business of the city's largest bail bond company.
If kick-backs are, in fact, at the heart of the case, it would hardly be the first time a bail bondsman greased a few palms in order to get their perp out of jail. Here are a couple recent cases of illegal/questionable acts committed on behalf of bail bondmen.
In Louisiana, U.S. District Court judge
Thomas Porteous
is facing impeachment after Louis Marcotte III, a New Orleans bail bondsmen "showered gifts and favors" on him and he, in turn, steered business toward the now-jailed Marcotte.
Investigators issued in a report last week that said Porteous was "so
utterly lacking in honesty and integrity
that he is guilty of high crimes and misdemeanors and is unfit to hold the office of federal judge and should be removed from office." Ouch.
Via the
Times-Picayune
:
​Appearing in front of a House task force considering whether to recommend Judge Porteous' impeachment, Mr. Marcotte narrated how he tried to rush through as many favorable bond rulings as he could when the judge was preparing to move from the state courthouse to the federal bench in 1994.

"We wanted to make as much money as we could while he was on his way out," Mr. Marcotte said. He recalled telling associates that "we're going to wear him (Judge Porteous) out."

The judge delivered, according to congressional investigators, who found 50 bail decisions made to "maximize" Mr. Marcotte's profits during Judge Porteous' final two months on the state bench.

They included a ruling the day before his swearing-in as a federal judge. Judge Porteous also expunged the felony records of two of Mr. Marcotte's employees so they could be licensed as bail bondsmen.

Such favors from Judge Porteous, Mr. Marcotte said, came because he took the judge to expensive lunches once or twice a week, paid for at least one trip to Las Vegas for the judge and paid for repairs to three cars belonging to the judge and a fence in his home.

Another recent bail scandal comes from Connecticut. In December 2009, a bondsmen was sentenced to four months in federal prison and a $2,500 fine for "providing
gifts to state employees
in exchange for referrals and information regarding bonds."
Writes the
New Haven Register
:
Philip Jacobs, 50, of Woodbridge, already has served his prison sentence, handed down in 2008. The civil penalty was part of a settlement with the Office of State Ethics for violating the state code of ethics.

State law prohibits anyone from offering or providing something of value to a state employee in an effort to influence the employees in his or her official capacity.

Jacobs, along with his former bail bondsmen brother and father, pleaded guilty in federal court in 2007 to charges they paid for favors. A judicial marshal and clerk at Superior Court on Elm Street and an employee at the New Haven Correctional Center on Whalley Avenue all have lost their jobs, pleaded guilty in federal court and received probation.

Three former city police officers also pleaded guilty and were sentenced to prison. Only former Lt. William White, the one time head of the narcotics squad, remains in prison.

OK, now raise you're right hand if you're interested to see what happens next at the City of St. Louis Circuit Court?