Each week, we scour the local Missed Connections section of Craigslist, in search of the best posts. Here are some that caught our eye recently.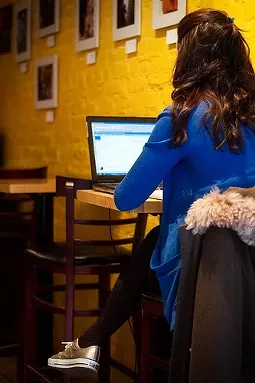 http://www.flickr.com/photos/carbonnyc/ / CC BY 2.0
You were creeping on me at BreadCo. - w4m -
(Delmar Loop)
So I was at the BreadCo in The Loop. You were at the table behind me, fairly tall, with curly brown hair and a white jacket-ish thing. I was on my laptop on Facebook with my back to you, and you were reading everything I was saying to my friend over my shoulder. I think you finally stopped when I turned on my webcam. Eventually, you abruptly got up and left, only to return about a half an hour later to retrieve something...and stare at me a little bit longer. If this is you, reply with my friend's name and what we were talking about. You were obviously staring intently enough to know.
Don't worry darling.... -
Anal is a good thing:) LOL
I hope you're happy - w4m -
I hate you now.
You got everything you wanted.
the man who never smiles - w4m - 30 -
(heart of west co)
I see you at the gym all the time, and a few times at the store . . . but you never smile.
There were a couple attempts, but it almost seemed painful (literally).
Is it because you are shy? Spoken for? Or (hopefully not) unfriendly?
I will continue to smile & may even say a heartfelt "hi" - just because.
Life is too short not to know the faces you see every day. : D
My God did your butt feel good yesterday and today - m4w - 37 -
(East Side)
I was giving you a hard time and you hit me with something so I reached out and smacked your ass. So you did it again. I smacked your ass again and made sure that I really got a good feel for it when I hit it the second time. You smacked me one more time knowing full well that I was going to lay my hand across your ass again. I did and you were smiling and laughing the entire time. Saw you today and you just looked too good to not give it a soft little smack. Told you, I am never going to give up smacking that sexy rearend no matter what!!!!