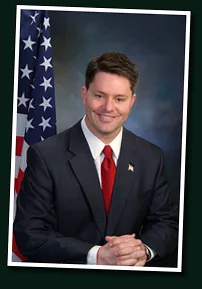 Yesterday a circuit court judge set
a preliminary hearing date
for the assault charges facing
Rod Jetton
. The former Missouri Speaker of the House has pleaded not guilty to the charges, which stem from an alleged sexual assault that occurred during rough sex with a Sikeston woman. (He claims his lady friend forgot to say their safe word, which was reportedly "
green balloons
.")
As if that wasn't enough, the
Kansas City Star
reports today that Jetton is the target of a federal investigation of a
"pay to play"
scandal. The former Republican representative from
Marble Hill
is facing suspicion for his handling of a 2005 bill that was intended to crack down on
Missouri's adult entertainment industry
.
Writes the Star
:
An FBI spokesman would neither confirm nor deny the existence of an investigation. A U.S. attorney's office spokesman declined to comment.

Jetton, who left the speaker's office early last year, has been under investigation for his alleged involvement in activities in which political donations were given in exchange for favorable treatment of legislation...

The 2005 bill -- proposing a host of new restrictions on adult clubs and dancers -- ran into opposition after Jetton assigned it to an unfriendly committee that Johnson chaired. Records show that strip club owners who opposed the bill had four days earlier given $35,000 to a fund-raising committee with ties to a top Jetton adviser.

Yikes. If only there was some kind of magic word Jetton could say to make it all stop...
(hat tip to our friends at
The Pitch
for the heads-up)