One's a nurse. The other's a wedding planner. One's married to a veteran. The other's husband convinced her to enter the
Riverfront Times
'
"Ask A Cougar"
columnist competition.
Both are conservatives, vying to be on the GOP ticket in Illinois'
Twelfth Congressional District
race. Wait--did we just say what we think we said? A cougar competition?
That's right, patriots,
Teri Davis Newman
was once up for election, as the
Quad-City Times
put it yesterday
, right here in this very paper. Newman, of Highland,
tried out
to pen our "Ask A Cougar" column back in 2008.
Courtesy of Teri Davis Newman
Cougar? Congresswoman? Teri Davis Newman is in it to win it.
Though Newman didn't snare the spot, she proved herself a feisty competitor. And now her opponent in the Congressional race,
Theresa Kormos
, says
the cougar bid
disqualifies Newman from holding office.
"It goes back to her character," Kormos told the
QC Times
.
"She has the personality of a wet sponge," Newman retorted to the newspaper. "The whole thing is
crap-ola
. A big bowl of crap-ola."
Well! Certainly at least one of these women is good with, um, a wet sponge, which, as far as Unreal is concerned, could prove most handy up in Washington.
But in the true spirit of democracy, why don't we throw the vote to you? Which one of these sassy cats should claw her way to Capitol Hill? Vote after the jump.
Peruse Newman's platform
here
.
www.voteforteri2010.com
Cougar? Or Congresswoman?
Peruse Kormos' platform
here
.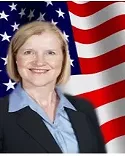 www.votekormos.com
Cougar wannabe? Or Congresswoman?









Or just picture which one of these ladies would play nice with a wet sponge with the other boys and girls in Washington.