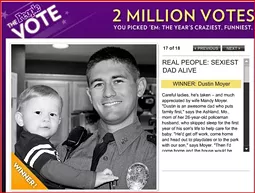 people.com/people/package/bestof2009
In one of the most critical elections in recent history, a plurality of the two million netizens casting a ballot in
People
's
"Best of 2009" online poll
chose
Dustin Moyer
of
Ashland, Missouri
as the "Sexiest Dad Alive."
Moyer, 26, was competing in the "Real People" section of the contest. As opposed to the contest exclusively for celebrities, who frankly have become so impressive
they are
not real
.
Moyer's wife
told
the
Columbia Daily Tribune
that her husband, a police officer at the
University of Missouri
, is sexy because he puts his wife and son first. Hmm. We might call that admirable, responsible, selfless or good. But does it make us want to slip into something more comfortable and whip out the strawberries?
No...although....he
does
wear a uniform...