So, just how well is the
Mark-McGwire
-recast-as-hitting-coach experiment going?
Two words: Not Well.
Okay, maybe three words: Really Not Well.
On top of all that, the Cardinals just made things much, much worse with their handling of McGwire at the Winter Warmup over the weekend. What I don't get is this: McGwire's first public statement went quite a way toward establishing at least a bridge over the chasm Big Mac faces as he tries to reenter the game, and the rest of the road was well mapped out. So why did the Cardinals choose to ignore it?
We've seen time and time again how best to handle public humiliation for our heroes. You come out contrite, make a statement about how sorry you are and how much you regret hurting everyone, sit down with the media and do a nice Q&A colonic, then you turn your focus toward the future. If you're sincere enough in your contrition and the public feels like you've answered whatever needs to be answered, hey, you're golden. People will forgive damned near anything so long as you go about apologising for it the right way.
Somewhere along the line, though, the Cardinals and McGwire lost the script. It all seemed to be going rather swimmingly, too; his statement was good, his sitdown with Bob Costas struck most of the right notes (well, some of the right notes, anyway), there was even some sympathy for his refusal to answer questions in front of Congress here and there. Well, sure, he didn't answer those questions, the thinking went, he was in danger of incriminating himself and hurting his family! There's no way a man could ever do something like that to his family if he really cared about them!
But now, oy. Not so good. The Cards
tried to sneak Mac in under the radar on Sunday
, making him available for a spare few minutes in the middle of a huge crowd. Hey, maybe it was just poor planning, but no matter the cause it now looks like they're trying to hide him. And if there's one thing the American public
doesn't
take too very kindly to, it's being lied to. Particularly when it's about a big, complicated issue concerned parents or religious leaders can paint in wide, flat, black and white brush strokes.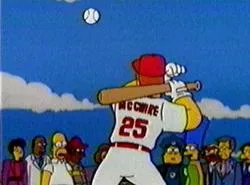 All the Cardinals had to do was have one big press conference for McGwire, have him sit down in front of the firing squad for a good solid hour of venom, and it would have been over. He answers the questions, directs focus toward the future, and all of a sudden spring training is about to start and we're all excited to see Brendan Ryan hitting dingers left and right. Instead, with their cloak and dagger surprise six minutes, the Cards have brought even more scrutiny to the situation.
I will say this: what I'm really interested in now is whether or not Jack Clark can manage to save his job. A few days ago, I would have said no way. (In fact, I did say so to several friends of mine when the subject was broached.) Now, though, I'm not so sure. In fact, if there's anyone who should be happy about the poor handling of McGwire's presence at the Winter Warmup, it should probably be Clark. If things had continued on as they had been, going fairly well for Mac and the Cards, Clark likely would have been out the door in a big hurry once everyone forgot what he said. Irreconcilable differences could have been cited, and if anyone really pressed the issue, it would have been perfectly fair for FSN to have simply stated his comments were not in the best interest of the station or the club they contract with to cover. Even better than fair, it might have even been true. Simple. Easy. Clean.
Now, though, if anything untoward were to happen to Clark, it would immediately be jumped on as further proof the Cardinals are trying to silence any- and everyone who has anything bad to say about the new coach. Suddenly it seems to me Clark may have in fact attained protected status, by simple dint of the fact he would be martyred before the ink dried on his walking papers.
Of course, it might still be possible to get rid of Clark, but only if done very carefully. If he were to be disgraced - and in the same manner as McGwire, if possible - then excising him would be much simpler. I'm thinking someone cooks up some research finding that sports analysts tend to make more money the more they look like washed-up Beverly Hills gigolos, at which point all those face lifts and tubes of artificial tanning lotion would become damning evidence Jack the Ripper is clearly enhancing his performance artificially...
When McGwire was first named the Cardinals' new hitting coach, I literally couldn't have been more excited. (Note: I probably could have been more excited; it would, however, have required a lot of nudity.) My only concern, in fact, was whether or not Big Mac teaching the next generation of Cardinals about the Zen of the Dinger would become a distraction. After all, it's tough to imagine any other choice who would have been a lightning rod of McGwire's magnitude.
Have my fears been realised? No, not yet. Heck, we're still almost a month away from pitchers and catchers reporting; how could any of this be a distraction yet? But, every day we move closer to spring training, and beyond that the baseball season itself, and I'm not sure I like what I see. I had hoped the story would burn brightly for a bit and then quickly flare out. It's looking more and more likely that isn't the way this is going.
Come on, Cardinals. Get this thing taken care of properly. Get Mac and yourselves back on the road map. It's the only chance we have of a happy ending here.