Montgomery County Jail
John Henry sans camo jumpsuit
Dumb and dumber were driving through rural Missouri just before midnight last Saturday when a
Wellsville
cop pulled over their vehicle.
Upon questioning the two men, the police officer noticed one of them --
John Henry
, 28 -- with an unusual message scribbled onto the camouflage jumpsuit he was wearing. The note, written in marker, seemed to be addressed to
Sgt. Jason Grellner
of the nearby Franklin County Sheriff's Department.
"Basically it said "F--- You, Sheriff," Wellsville police chief
Rich Daniels
tells
Daily RFT
today. "It concerned my officer that he knew these meth heads were making -- well, I guess you can't call it a 'threat' -- against an officer. But let's just say its unusual to scrawl an insult to a cop on an item of clothing."
The message prompted the Wellsville officer to search the vehicle, where in the trunk he discovered: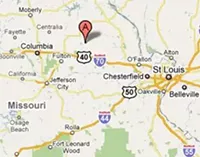 two black ski masks


a map highlighting the location of a nearby Farmer's Co-op


four propane tanks modified to store anhydrous ammonia -- a key ingredient for making methamphetamines
Montgomery County Jail
Chris Erxleban
Henry and his sidekick --
Christopher Erxleben
, 31 -- are now charged with possession of drug paraphernalia and anhydrous ammonia in a non-approved container. The
Post-Dispatch
reports today that both men were on probation and parole for previous drug-related convictions and that Sgt. Grellner had arrested Henry back in December in a meth lab bust.
Oh, and according to Grellner, having drug users scrawl messages directed at him is not all that unusual.
"I've got a T-shirt on my wall with a picture of a guy (urinating) on my badge, so it's nothing I haven't seen before," Grellner tells the
Post-Dispatch
. "What's really comical is that it draws attention to the police and ultimately gets them caught for the crime they committed."