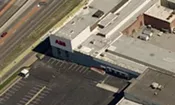 Carter was shot in the head outside ABB Power.
As the family of Carlton Carter lays him to rest later today, detectives from the St. Louis Metropolitan Police Department will be investigating a break-in at Carter's home.
Carter's family left their home on Saturday night for a three-day absence, and returned yesterday morning -- only to discover they'd been fleeced.
Police say the burglar(s) busted through two back windows of the Carter home on Henner Place, and proceeded to steal a DVD player, a computer, a camera and two watches.
There were no witnesses, but the investigation is ongoing.