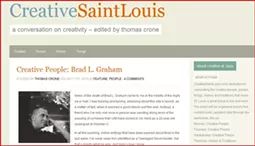 Thomas Crone, a
former RFT staff writer
and
self-described
"university professor, club/radio deejay and occasional bouncer-for-money," has unveiled a new
blog
designed to spotlight our city's creative forces.
It will hew to a particular weekly schedule: on Mondays,
CreativeSaintLouis
will spotlight a person who makes St. Louis kick ass; on Tuesdays it'll be a place; Wednesdays will have a "thing"; and Thursdays "history and tradition." Then Friday is "show and tell" (unclear what that means, because the site's only been up a couple days).
So far, the Cronester has penned a thoughtful
eulogy
to the late
Brad Graham
, former PR manager at the
Rep
, and today's featured "thing" is
Schlafly APA
. Stay tuned...