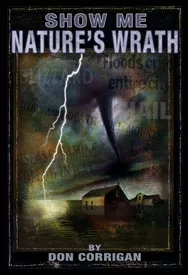 reedypress.com
Corrigan says everything in Missouri is political, even the weather.
Is global warming real?
Finally, somebody has asked the experts.
Thank you,
Don Corrigan
, editor and co-publisher of the
Webster-Kirkwood
and
South County Times
newspapers.
In his new book,
Show Me Nature's Wrath
, a rundown of some
wicked-awful weather history
right here in Missourah, Corrigan posed the question to some of the state's preeminent meteorologists -- and found that, sorta like in politics, they're "all over the map."
"The state is divided into those who believe that global warming is real and affecting the state's weather; and those who believe that the idea of global warming is just hogwash," says a lil' statement we recently received from Corrigan.
So Corrigan took it a step farther,
asking whether global warming should be referenced in weather reports?
Another storm of response!
According to Corrigan, FOX2's
Dave Murray
prefers to talk about "climate change and weather cycles," while KSDK's
Cindy Preszler
feels it's totally cool to mention global warming in her weather dispatches.
What say you, dear readers?
How hot are you
for quips and charts referring to global warming when you're listening to the otherwise-most-important news story of the day?