St. Louis is the Fourth Most Coupon-Clippin'est City in the Entire Nation
Or so
say
the folks over at
Coupons.com
, who've
tallied
up their 2009 numbers. Here are the top five: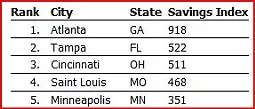 http://snurl.com/u1vqe [eon_businesswire_com]
And like some of you,
Daily RFT
didn't really give a hoot about coupons until we read a couple of interesting articles in
Slate
on
how to game the system and score free groceries legally
and also
how the Interweb is going to forever change your couponing world
.
That is, if you
have
a couponing world.
Support Local Journalism.
Join the Riverfront Times Press Club

Local journalism is information. Information is power. And we believe everyone deserves access to accurate independent coverage of their community and state. Our readers helped us continue this coverage in 2020, and we are so grateful for the support.

Help us keep this coverage going in 2021. Whether it's a one-time acknowledgement of this article or an ongoing membership pledge, your support goes to local-based reporting from our small but mighty team.

Join the Riverfront Times Club for as little as $5 a month.
Euclid Media Group, LLC
Read Our Sister Publications