http://www.flickr.com/photos/mager/ / CC BY-SA 2.0
It was
supposed to be
an exchange between city officials and downtown's homeless. By 1:30 p.m. Tuesday, about 50 people had filled up room 306 of the
St. Louis Public Library
's central branch.
But for a pair of cops and a few service providers, it was mostly homeless citizens. Discussion ranged from jobs and rat droppings to trash norms and beer-drinking etiquette.
"I was really hoping our invited city officials would come," organizer
Jay W
. said in a calm baritone. The 45-year-old lives in a shelter, and on this occasion wore an argyle sweater vest and a necklace-badge bearing the name of his group, Citizens Committee for Justice, which he started a month ago.
"Maybe this is the message they're sending to the community," he said, referring to Aldermen
April Ford-Griffin
and
Phyllis Young
, whom he said he invited but who didn't attend. "Maybe if we stand strong, even the mayor will attend!"
An aide told the group he'd shown up on behalf of his boss, Alderman
Kacie Starr Tripplett
, who was sick that day.
At the front of the room, Jay W. announced his organization's grievances and positions (
click here
). He said it was "embarrassing" when volunteers arrive downtown to pass out food but get shooed away by the cops.
"The laws on the books, whether you like them or not, are there for your own protection," pointed out uniformed police officer
Shelly Finn
, who along with officer
Dan Peek
, sat in the back corner. She explained that such food might be tainted. "But we have never locked up anybody who's come with prepackaged food."
"I have a question," said
Jason Reynolds
, Jay W.'s fellow organizer, raising his hand. He wore a ski cap, mentioned that he slept outside near St. Patrick's center using "plenty of blankets" the night before.
Reynolds wanted to know what to do when the cops rouse him after midnight and move him along, but there's nowhere else to go. Jay W. recalled that the library and St. Patrick's Center were often closed during the holidays.
"We're well aware of that [problem]," officer Finn responded. "Of course it breaks our hearts to see people sleeping on the street, but we're not in the business of providing you all shelter. We try to be gentle about it."
The subject of
loft-dweller--homeless relations
came up. "I totally understand if I was paying an enormous amount where I chose to live, I shouldn't have to deal with certain other elements," Jay W. conceded. "But some of the homeless were here before those properties were developed."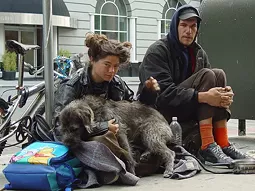 http://www.flickr.com/photos/livenature/ / CC BY-SA 2.0
He bemoaned the recent transformation of
Lucas Gardens
- a.k.a., "Hobo Park" - into a dog park, and the fact that they frequently clear everyone out to tidy things up.
"You know I respect you all, but you also have to be considerate of your fellow residents," Finn said. "Hobo Park has been filthy come the end of the weekend. If you respect the city and you're a good citizen, your park should not get that filthy."
Jay W. told the group that if a mentally ill person doesn't think to throw away his or her trash, the rest of the homeless community should pick up the slack.
Ron, a young man up front whose legs were crossed and his Castro hat fashionably askew, complained with a lisp that the sheets at
New Life shelter
often went unwashed and rat droppings littered the men's side.
An assistant supervisor from New Life offered that his colleagues do in fact, clean up the men's side.
"But do you do it every day?" Ron interrupted curtly. "It needz to be done every day. You could get scabiez on that bed."
Another representative of New Life stated his shelter had no rat problem. It did, however, have a problem with squirrels.
Jay W., switching away from that topic (as moderator he proved quite deft at keeping the discussion civil), suggested it was somewhat of a "double standard" that residents downtown could be seen drinking outside, but homeless people can't enjoy a beer on the street.
Officer Finn answered, "We do have special events downtown. But all I ask is, if you put it in a cup, nobody knows what you're drinking."
Jay W. challenged the city to hire homeless people to help with set-up and take-down of those special events and festivals. "They'd probably be on time for the job," he predicted, "because it's right where they're living!"