Anyone who's ever cruised the Mississippi River in an metal-hulled boat is familiar with
asian carp
. They are the big smelly silver fish that leap from the water, sometimes landing in the boat or slapping the occasional angler (or worse, water skier) in the face. Like so: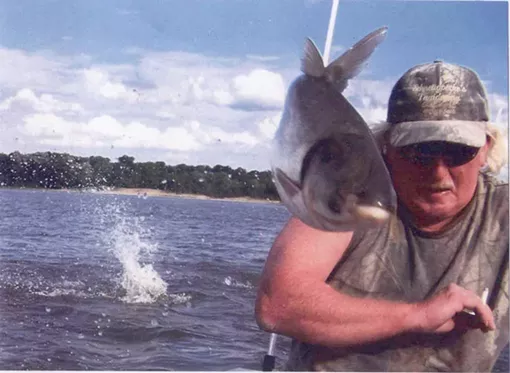 A slimy asian carp, not a slimy Illinois lawmaker.
As their name suggests, they are not native to local waters. Rather, they are one of the most loathed invasive species. They're like zebra mussels only with the capability to kill off nearly every other type of native fish -- to the point that the mostly inedible asian carp now make up 95 percent of the fish population in some of the state's waterways.
But while entrenched in Missouri, one place the fish haven't reached is the Great Lakes, specifically Lake Michigan. But that seems likely to change as a result of squabbling between lawmakers in Illinois and their lake-sharing neighbors in Wisconsin, Ohio, Minnesota Indiana and Canada.
At the heart of the issue is a canal that connects the Chicago River to Lake Michigan, allowing barge traffic -- or potentially carp -- to move between to the two bodies of water.
Chicago mayor
Richard Daley
and Illinois governor
Pat Quinn
want to keep the locks open for economic reasons. Their neighbors, with whom they hold a fragile, recently established truce on Great Lakes management, want it closed.
The
New York Times
detailed the situation in
a story in Sunday's edition
:
As lake advocates called on leaders to close locks in the waterway system in an emergency effort to block the fish, representatives from the office of Mike Cox, the attorney general of Michigan, said he had reached out to leaders on the other side of the lake, in Illinois, but got no response.

Mr. Cox, a Republican who is running for governor of Michigan this year, said hundreds of thousands of jobs in his state depended on Lake Michigan, and in December he filed a lawsuit. "This is an environmental and economic emergency," Nick De Leeuw, a spokesman for Mr. Cox, said of the potential damage the carp could inflict throughout the lakes. "It's almost like a bad science fiction movie."

In his legal filings, Mr. Cox called for an injunction to close locks immediately, but he is also seeking, ultimately, to separate the Mississippi River system from the Great Lakes entirely.

The Times goes on to quote a spokeswoman for Governor Quinn as saying that "everything should be looked at in a careful and studied way."
Umm, duh?
The obvious carp solution, as detailed in
an RFT feature from September 2008
: unleash boatloads of bow and arrow toting rednecks to destroy the carp.
No, seriously. There are people in the area who shoot the critters with arrows,
as they jump out of the water
: