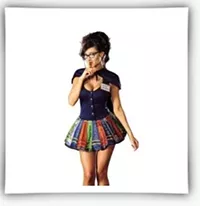 librarianavengers.org
Unreal issues a battle call: All in favor of starting a Hot Librarian ranking, spell Y-E-S!
If you thought the decade would end without some national ranking
flipping the bird
to our fair city, well, you've had your fill of the Christmas Kool-Aid, now haven't you?
Party's over, kids. Put on your reading glasses and weep: St. Louis has netted t
he number-eleven spot
on a ranking of the nation's most literate cities!
That's right, folks, we fall in line behind the bastions of smartyness that are Pittsburgh (# 4) and Atlanta (# 5), but ahead of the intellectual ghettoz that are San Francisco (# 12) and Cleveland (#13).
Ah, well. At least we didn't have to share our berth, like Tampa (#20.5) and Tulsa (#20.5).
The ranking is compiled annually by a professor at Central Connecticut State University, a public school in New Britain, Connecticut. (Please!)
Dr. John Miller scores U.S. cities by crunching stats on
nerdy shit
like newspaper circulation, number of bookstores per capita, education level and "internet resources" (Internet book orders per capita, visits to and views of the metro newspaper's website).
Which makes us think that we should start the next decade on a different foot, get proactive with our PR and really start applying ourselves to bettering our national image.