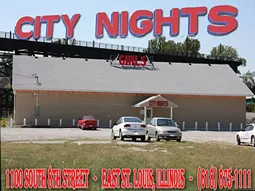 The weird saga of the City Nights club in
East Boogie
just got a little weirder. And a lot hotter. Because it burned down last night. That's why we say, "hotter."
Only a few months after a black man was murdered in this apparently all-white dive, the building went down in flames at 12:20 a.m. Wednesday, and now police are suspecting arson.
Everybody's jumped on this one, from the TV networks (
KMOV
,
KTVI
and
KSDK
) to the
Post-Dispatch
and the
Belleville News Democrat
. Here's a little context from Keegan Hamilton's Dec. 7
Daily RFT
post on City Nights:
Of all the places to open a nightclub that advertises "Hot Girls, Cold Beer" and [reportedly] only allows white people to enter, East St. Louis, Illinois has to be at the bottom of the list of likely locations.

Not only is the city's population 98 percent African-American, it also prohibits "sexually explicit" businesses from holding liquor licenses.

And yet, according to the family of a Bethalto man who was killed in a bizarre incident this past October, City Nights is just such a club. (Read the rest of Hamilton's post here).

We
wouldn't be surprised if this hot little story went national....