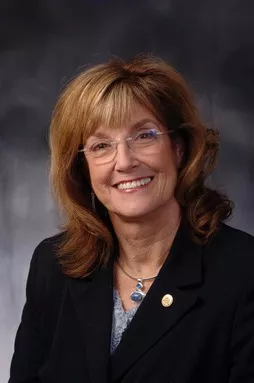 house.mo.gov
Rep. Marilyn Ruestman of Joplin
According to a recent
piece
in
Slate
, the Christmas front of the culture wars has seen a cease-fire this year. But in Missouri, a couple of distant shots have crackled in the wintry night.
The latest was this
holiday address
from
Republican Rep. Marilyn Ruestman of Joplin
to her constituents:
Christmas is a wonderful time of year! Regardless of what is going on around us, this season always has a magical feel to it. Every time I think of our Savior being born on a peaceful night in a manger it excites me.

I'm so glad that despite the liberal media and the far left's agenda, this season continues to remind us of Christ. I feel so blessed to live in a nation where I still have the freedom of speech that allows me to say "Merry Christmas!" and the freedom of religion to celebrate its true meaning.

What would be a loving Christmas card without a swipe at one's political opponents?
Then last week, we had
Rep. Mike Cunningham's pre-filed bill
to formally recognize Dec. 25 as Christmas. To be fair, Cunningham's bill also recognizes many secular holidays and holidays of other faiths, though
critics contend
it's a superficial gesture -- for example, it mentions
Hanukkah
, but not the far more important
Rosh Hashanah
, and it makes no mention whatsoever of
Eid ul-Fitr
, the Muslim feast right after Ramadan).
Between Cunningham, Ruestman and now
the Advent Conspiracy campaign
,
Daily RFT
says there might be a cease-fire, but we're staying inside anyway to bake
Christmas
Hanukkah
Festivus
cookies.