It's going to be difficult to get any real work done during this short holiday week, so why even try?
What you need to do is spend the next couple days sitting at your computer pretending to do work. (You know, like what you do the other 51 weeks of the year only this time with more gusto!)
Here to assist with your procrastination is
Daily RFT
's weekend wrap-up coverage. Enjoy. And be sure to check back with us later today and this week for more time-wasting endeavors.
El Monstero at the Pageant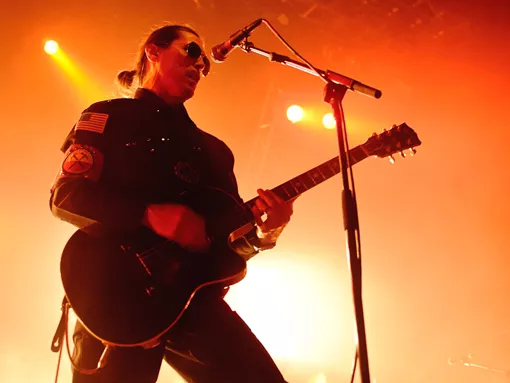 Photo: Jason Stoff
Pink Floyd tribute act El Monstero played the first of its six-show run here in St. Louis on Friday night. Read the concert review here.
On Friday night the Pageant on Delmar was sold-out for the first El Monstero show of the holiday season. The tribute act does several Pink Floyd concerts each year around this time. Shae Moseley was in the crowd for Friday night's show and brings back this
concert review
. Photographer Jason Stoff was there and brings back these
concert photos
.
Pitbull at Home Nightclub
Photo: Nick Schnelle
Throngs of drinkers wait for libations at the bar Saturday night during the show for Miami-based rapper Pitbull. See more photos from the show.
Miami-based rapper
Pitbull
performed on Saturday night at Home Nightclub inside the Ameristar Casino. Photographer Nick Schnelle was in the middle of the elbows-to-assholes crowd and brings back these
nightlife photos
.
"Sexy Santas" at Sol Lounge
Photo: Jon Gitchoff
This elf is spreading a little holiday cheer at Sol Lounge on Saturday night. See more photos.
The "Sexy Santa '09" contest at Sol Lounge on Saturday night in Midtown proved that some Santas are sexier than others. The sexiest Santa of them all is Tiffany Tope, who took home $1,000 in prize money, says organizer Ryan Burton. Photographer Jon Gitchoff was there to
photograph the craziness
. Unless you work at a naughty toy factory, consider that some photos are not safe for viewing while on the clock.
Slideshow here
.