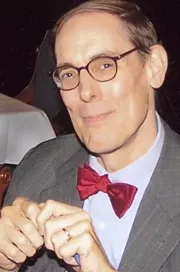 randomhouse.com
The author of "Tyranny of Tolerance" prevails over red-light tyrants.
St. Louis Circuit Court Judge Robert Dierker, Jr.
, has won his court case challenging a red-light camera ticket issued by St. Louis, according to
Missouri Lawyers' Weekly
.
Drivers aplenty have fought the
big-$$$
tickets --
and won
-- but Dierker's case garnered attention because he demanded a trial in the very same circuit court....where he sits on the bench. (See a
Daily RFT
interview with Dierker
here
.)
Dierker represented himself in the case, which was tossed to a judge from outstate Missouri.
Dierker's on vacation this week, says a court spokesman, and a copy of the special judge's decision was not available yesterday.
Dierker apparently prevailed in his argument that the city couldn't prove he was the person driving his car the night the ticket was issued. More details to come.