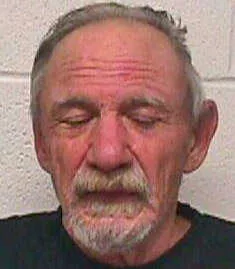 bnd.com
Henry Hill
Henry P. Hill
, the mobster-turned-snitch whose real-life story inspired the book
Wiseguys
and the Martin Scorsese flick
Goodfellas
, was arrested Sunday night in a hotel east of St. Louis.
Hill is in town to showcase his artwork and meet with fans of the film this week at
Larry Flynt's Hustler Club
strip joint outside East St. Louis.
(Read an interview with Hill about his
Goodfellas
lifestyle.)
According to reports, police were called to the Drury Inn in Fairview Heights, Illinois, around 9 p.m. December 13 after the 66-year-old Hill, a resident of California, became disruptive. Law officials charged Hill with disorderly conduct and resisting arrest.
"I got a summons for being intoxicated; it wasn't my first one," Hill told the
Belleville News-Democrat
yesterday. "I broke the law and I got arrested."
Then again, it wasn't really Hill's fault. The problem was the free booze.
Henry Hill, played by actor Ray Liotta, could handle his liquor (but not his drugs) in Goodfellas.
Per the
News-Democrat
:
"Sometimes I have one too many. I know I shouldn't drink this much, but they give you free drinks. I had a few and it got pretty foggy after that. The lady I was with doesn't drink, so I had six drinks and I ended up at the county jail."

Hill was taken to jail and released on a $1,000 bail. Said a remorseful (and sober) Hill yesterday:
"Apparently I got loud and beligerent in the lobby, but there was no one there except me and the girl in the lobby, so now I owe her an apology. I will personally go down and apologize to her."

Recently
Riverfront Times
staff writer Nicholas Phillips sat down with Hill to recall his wiseguy days.
Check out the interview here.