This is a medium-sized post, so it wouldn't make the cut.
We began 2009 with a new name for this blog (it used to go by "Stlog" if you remember) and yada-yada-yada now we are in December, looking back on, oh about 2,391 posts.
Here -- in no specific order -- are the ten most popular posts of '09.
Please consider this list 100% accurate, barring any huge breaking-news stories between now and the end of the year, which, like the troubles of
former state Sen. Jeff Smith
or
Kurt Greenbaum
, or the wackiness of
state Rep. Cynthia Davis
, you'll be sure to read about here.
We determined the popularity of our posts using the following formula:
(pageviews)(number of tweets) + number of angry calls from public officials
Actual mentions by real people talking to each other face-to-face.
Now, without further ado, your ten most popular posts of 2009: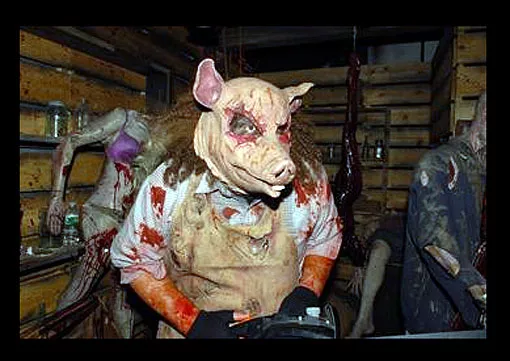 13 Pants-Peeing Haunted Houses
A local haunted house -- The Darkness in Soulard -- again made the top five for scariest haunted houses in 2009, according to a group that ranks such emporiums of fake blood and dead babies.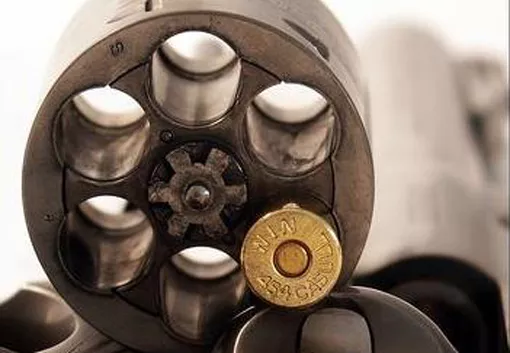 Man Fatally Shoots Self While Teaching Girlfriend Lesson on Gun Safety
Jefferson County Sheriff Oliver "Glenn" Boyer reported in September that 40-year-old James Looney accidentally shot himself to death last Friday, September 18, while teaching his girlfriend a lesson on firearm safety. Looney's teaching method involved him placing the gun to his head and asking his girlfriend if the gun would go off.
Man in "Gangsta" T-shirt Robs Local Bank
Was the novelty shop where the robber buys his clothes all out of t-shirts that say: "Bank Robber"?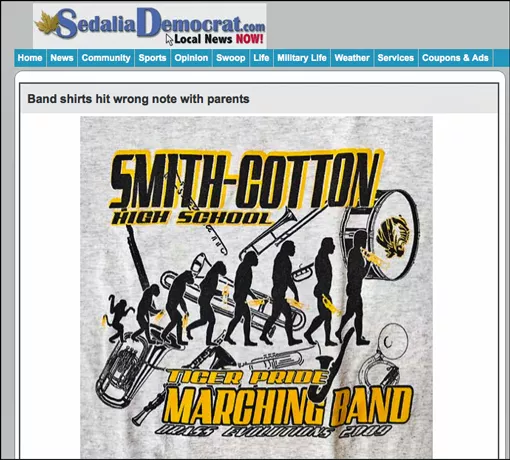 Evolution T-Shirts on Trial in Missouri Town
The band director at Sedalia, Missouri's Smith-Cotton High School got in hot water for making T-shirts that depict primates evolving into man. The shirts -- based on the popular illustration above -- were designed to promote the band's fall program, "Brass Evolutions," that explores how brass instruments have changed from the 1960s to today.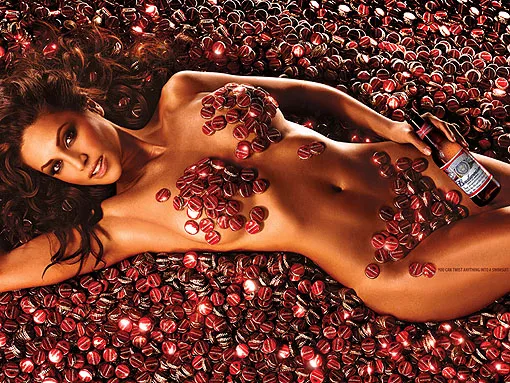 What!? Anheuser-Busch Has "Frat House" Culture!? We'd Never Guess Based on Its Ads!
A former Anheuser-Busch executive
filed a lawsuit
claiming her former employer discriminated against her based upon her gender, saying the company facilitated a "locker room and frat party atmosphere" that works against female employees. Could she have used these ads to help make her case?
Video: I'm So Sorry Mr. Policeman For Saying You Were Getting Blowjobs in the Bathroom
Cassandra (a.k.a. Cassidy) Harris essentially says this in a video apology to St. Louis police officer Michael Haman.
Newlyweds' Honeymoon Trip (on LSD) Ends Badly
A Crestwood couple took a trip out to Fenton after being married and then took another trip. But sadly, it wasn't through a psychedelic wonderland for which the 20-year-old had presumably hoped, but instead a trip to the emergency room. The new bride suffered seizures from the drug and the groom was booked for drug possession.
Tired of Seeing Underwear, Mother Launches Clothing Line to Let People "Sag" with Dignity
Thomasina Clarke hated seeing her students sag their pants so she invented "Bagg'ns," a jean featuring not one, but two waistbands. The wearer can make a sagging statement but keep his britches firmly above his waist.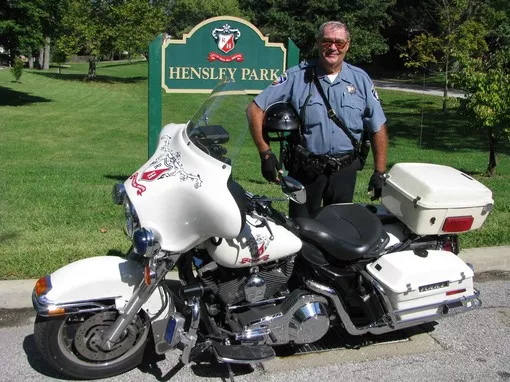 Rock Hill's Legendary (Infamous) Ticket-Writing Traffic Cop Set to Retire Radar Gun
Officer Ronald Zeigler called it a career in '09 after writing 150,000 traffic tickets. Some people hated him for it.
Ellis Conklin
talked to the cop.
Ten Tech Releases to Look for this Fall
Our
tech blogger Bill Streeter
ran down this list of some hot items fer sale in the fall of '09. Some people disagreed.