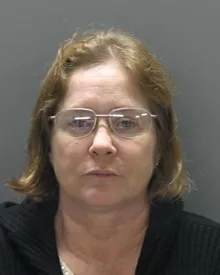 We have Ass Clown, and her name is
Virginia Burns
-- the "disabled" woman who Ladue police say
falsely reported she was raped and lied about being paraplegic
.
Fourty-four percent of
Daily RFT
readers picked Burns from a
strong field of Ass Clown nominees
last week.
Coming in second with 27 percent of the vote was former Missouri House Speaker
Rod Jetton
, who police say got overly rough with a woman during a
game of BDSM lovemaking
.
Others receiving votes:
Wendy Rogers, a former Boy Scout volunteer from O'Fallon, Illinois, earned 15 percent of votes for allegedly helping one of her scouts earn his knot-tying merit badge -- in bed!
Jack Eigles, earned 8 percent of the votes, for allegedly using a hidden camera to film women using the restroom in his Chesterfield business.
And finally, an unknown man from Fenton who was robbed by his female prison pen pal earned just 6 percent of votes. People just felt sorry for the poor s.o.b.