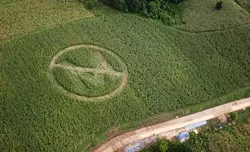 A farmer expresses his distaste toward Monsanto.
The
AP is out today
with an investigative piece chronicling Monsanto's grip on the genetically-modified seed industry.
Genes developed by the St. Louis-based bio-tech firm can now be found in 95 percent of all soybeans grown in the United States and 80 percent of all corn.
The result is that in just the past dozen years Monsanto has grown from a fringe player in the seed industry to a virtual monopoly. But has it gotten there legally?
That's what the U.S. Department of Justice and attorneys general in Texas and Iowa wants to know. The Associated Press reports that those agencies have begun to look into Monsanto's strict patent contracts that competitors and farmers must sign if they want to partner with the bio-tech giant.
One particular curiosity about those contracts is a stipulation that requires competitors (which use Monsanto's patent technology to create plants resistant to pesticides) to destroy all their seed inventory should they decide to sell the business. This stipulation has allowed Monsanto to gobble up smaller seed manufacturers at rock-bottom prices.
''If the independent seed company is losing their license and has to destroy their seeds, they're not going to have anything, in effect, to sell,'' David Boies, an attorney with competitor DuPont tells the AP.
A similar contract allows the St. Louis company to void deals and destroy the entire inventory any business that breaks the Byzantine confidentiality agreement Monsanto requires all its partners to sign. The result is a virtual gag, reports the AP, that keeps companies and farmers from complaining for fear that they'll lose their business or be forced into a costly lawsuit.
Monsanto, meanwhile, defends its trade practices and says its seed technology which it claims has boosted yields and profitability for farmers.