Sharon Shinn
is the best local author you've never heard of. A resident of Brentwood, she's published 21 novels for adults and teenagers. Her books are a mixture of science fiction, fantasy and romance and, frankly, kick ass over all those vampires. This year
Riverfront Times
named her
Best Local Young Adult Author
.
Her latest,
Gateway
, tells the story of Daiyu, a 17-year-old girl in St. Louis who was adopted from China as a baby. One hot summer day, Daiyu buys a mysterious ring and walks under the Arch into an alternative St. Louis that was settled by Asians instead of Europeans. Almost immediately, she gets swept into a political conspiracy and also a romance that makes her wonder if she ever wants to go home.
Tomorrow at 6 p.m., Shinn will give a
reading
from
Gateway
at the St. Louis Public Library's Buder branch. Today, she talks with
Daily RFT
about writing, Bill Clinton and the power of cookies.
Daily RFT: This is your first book with a recognizable setting, right?
Sharon Shinn:
It's my first
published
book with a recognizable setting. When I'm writing a fantasy book, especially one set in a fake medieval world, there are words I can't use. In a contemporary world, I can use every modern piece of language ever invented. Daiyu is a contemporary girl with contemporary attitudes, which makes her different from my other heroines.
How did you come up with the St. Louis/China link? It doesn't seem like it would be something that's immediately obvious.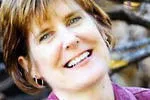 I usually have ideas in my head for a long time and I move the pieces around till they fit. I had this idea of a girl that would go through a portal and meet a young man and also an older man who was charming but maybe evil. I needed a character who would be able to move easily between the real world and the alternative world and be at home in both worlds. Race seemed like an obvious way. I have a friend with two girls who were adopted from China, though they weren't the direct model for Daiyu.
This book and your previous young adult book,
General Winston's Daughter
,
seem more political than other ones you've done.
Well, with
General Winston's Daughter
, I needed a conflict for a character to engage with and war is a pretty big conflict. It's the same in
Gateway
. The Prime Minister may or may not be bad. It's a setting with drama in it. Though when you're writing about politics, your own feelings do come through. But I try not to write message books because they're not that interesting.
There's a funny story about the character who may or may not be the villain. I based him on Bill Clinton. He's so charming and I wanted my character to be charming. I have a friend named Carol, who is not a Bill Clinton fan. She was working in Arkansas and he came to her office to make a presentation. She was all prepared, ready to question him. But when she meets him, he's so charismatic, all she can think of to say is, "Mr. President, you look fabulous!" He said, "Thanks Carol, so do you."
Any reason why people should come to the reading tomorrow?
I'm bringing cookies.
That's an extremely good reason.