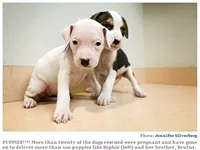 Four of the
five Eastern Missouri men
involved in a massive
dog-fighting ring
got prison sentences today.
Teddy Kiriakidis
, of Leasburg, and
Ronald Creach
, of Leslie, owner of the Hard Goodbye Kennel, will each do eighteen months in the pen.
Robert Hackman
, of Foley, owner of the Shake Rattle & Roll Kennel, and
Michael Morgan
, of Hannibal, owner of the Cannibal Kennel, each got a year and a day (a sentence that might allow them to be released sooner for good behavior, because of BOP policies).
Jack Ruppel
, of Eldon, owner of the Ozark Hillbillys Kennel, has yet to be sentenced.
The fellas fared better than the country's most famous convicted dog-fighter, Michael Vick. He got 23 months in the clinker (and got out this past summer).
The Humane Society of Missouri helped
rescue
more than 500 dogs in the multi-state raid on midwestern dog-fighters which went down earlier this year. See incredibly awesome photos of some of the pit bulls -- and their pups --
here
.