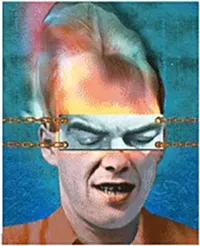 Earlier today Ohio prison officials executed a death row inmate with an injection of a single drug, rather than the three-chemical intravenous series that has been used throughout the U.S. since lethal injection came to prominence in the 1970s.
Five years ago
RFT
staff writer Malcolm Gay probed the topic in a feature story, "
Uncomfortably Numb
," which centered on a suit on behalf of inmate Timothy Johnston.
Wrote Gay:
Johnston's lawyers contend that the second drug in Missouri's three-chemical sequence may render Johnston completely paralyzed but fully conscious and susceptible to pain. They say that the chemical, which has no anesthetic properties, could enshroud Johnston in a "chemical veil" -- leaving him unable to move, cry out or communicate in any way as he slowly suffocates, "consciously [suffering] an excruciating painful and protracted death."

The chemical, pancuronium bromide -- known commercially as Pavulon -- is a muscle relaxant commonly used to immobilize patients during surgical procedures. In Missouri and most of the 30-odd states that execute criminals by lethal injection, Pavulon is administered after an initial dose of the short-acting barbiturate sodium pentothal. The two drugs are followed by an injection of potassium chloride, which causes cardiac arrest.

"The worst-case scenario is that you wake after a sub-anesthetic dose of sodium pentothal. [You've already received] a paralyzing dose of Pavulon -- and experience the torment of suffocation and conscious paralysis -- and then the agony of the burning potassium chloride," says Mark Heath, an anesthesiologist at Columbia University Medical Center in New York. "There are abundant examples of people who wake up in the middle of surgery feeling everything -- having the full experience of pain and terror, but [because of the Pavulon] are unable to communicate in any way that they're awake."
Johnston's suit was unsuccessful. He was put to death in August 2005, the old-fashioned way.
The method employed earlier today in Ohio is one that's essentially identical to the process by which animals are euthanized: a single infusion of sodium pentathol in a quantity sufficient to be fatal. The inmate, 51-year-old Kenneth Biros, was pronounced dead at 11:47 a.m., about nine minutes after he was injected with five grams of sodium pentathol, according to a blog post at the website of the Cleveland Plain Dealer.
That post also notes that the execution team had trouble locating a vein into which to inject the chemical. Death penalty opponents have consistently pointed to such struggles, which are not uncommon, as evidence that U.S. execution protocols constitute "cruel and unusual punishment."