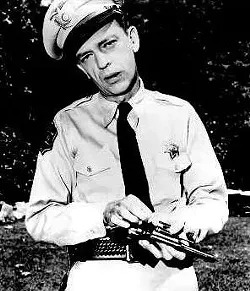 Officer Donald Williams Knotts
Poor, poor
Linda Hicks
of Washington Park, Illinois.
She was only trying to do the right thing last year when she called the police to remove her disruptive son from her home.
In a lawsuit filed in St. Clair County, Hicks alleges that Washington Park police officer
Donald Williams
arrived at her home last December and promptly arrested her son for an outstanding warrant.
Then the situation got strange.
As noted yesterday in the
Madison Record
, Hicks' lawsuit states:
"As the officers were taking the plaintiff's son to the squad car, plaintiff's dog barked at Officer Williams. Apparently startled, Williams discharged his official firearm twice in the direction of the dog. The bullet or the ricochet of the bullet struck plaintiff in the leg."

The suit accuses Williams of firing his weapon in the absence of a legitimate threat and discharging a firearm contrary to police policy. Hicks is suing both Williams and the Village of Washington Park. She's seeking at least $100,000 for her injuries.
Oh and the dog? Apparently it lived to bark another day.