Will more dissapointments be churned in this year's bowls?
The college football regular season is at its end, with the exception of an Army-Navy game next weekend, now we wait for the plethora of meaningless bowls in coming weeks.
The Bowl Championship Series relies on a combination of polls and calculated methods to determine relative team rankings, the result being a selection of two teams to play in the BCS National Championship Game.
This year's results will certainly renew the annual debate about college football's way of determining the best team in the land, but the computers have churned out some interesting picks, but rest assured that disappointing games remain.
So let's dive into the 2009-2010 BCS Bowl selection: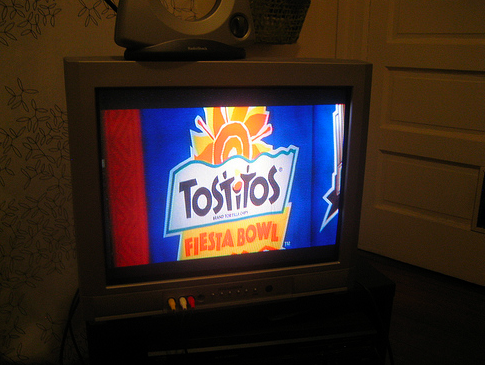 http://www.flickr.com/photos/davidsilver/ / CC BY-SA 2.0
The Tostitos Fiesta Bowl (Monday, January 4)
Number 6 Boise State (13-0, at-large) vs. umber. 4 Texas Christian (12-0 BCS #4 automatic)
Okay, so let's get this out of the way first. This is a great match-up. Both schools are from non-BCS conferences, yet they have made it to the heights of a prestigious BCS Bowl game. Boise State has one the nation's top offenses (
Number 1 scoring offense
) while TCU is
ranked top in the nation for total defense
.
What's interesting here is that this one is a non-automatic bid and the other is automatic. Because Cincinnati is ranked Number 3 by the
final BCS standings
, they get an automatic berth in the BCS, but since they are Big East champs, by rule they do not need a bid based on the
"third-ranked team" rule
. This means that the fourth nationally ranked team (TCU) gets an "automatic" bid, and for the first time in the short BCS history two non-BCS teams make it to a bowl game. The negative factor in this match-up is that it does nothing to help prove or disprove whether these teams should be in the discussion for national titles -- because they're not playing against the big time BCS schools. Maybe a TCU vs. Florida would have been interesting.
http://www.flickr.com/photos/xurble/ / CC BY 2.0
The Citi Rose Bowl (Friday, January 1, 2010)
Number 7 Oregon (10-2 Pac 10 Champion) vs. Number 8 Ohio State (10-2 Big 10 Champion)
The logical and expected choice, as both teams won their respective championships and with the way the BCS is set-up, it pits these two teams against each other. Oregon comes into the Rose Bowl, perhaps the most prestigious bowl game, to try and win it for the first time in more than 90 years. Oregon defeated Number 13 Oregon State in the
Civil War
to earn its fifth trip to Pasadena, and first trip since 1995 when they were defeated by Penn State.
Oregon's only Rose Bowl win was a 14-0 victory over Pennsylvania in 1917. Ohio State enters the bowl for the first time since 1997 after winning its fifth straight Big Ten championship by defeating Iowa. Oregon comes into the game with the
seventh-ranked scoring offense
in the nation and is it ever potent: Ohio State has avera ged 37 points per game. Ohio State comes into the game with the
fifth-ranked total defense
in the country, allowing an average of 262 yards per game and twelve points. The Rose Bowl certainly offers an intriguing match-up.
http://www.flickr.com/photos/cushinglibrary/ / CC BY 2.0
The All-State Sugar Bowl (Friday, January 1, 2010)
Number 5 Florida (12-1, at-large) vs. Number 3 Cincinnati (12-0 Big East Champion)
What should be dubbed as the "
What Coach Notre Dame Wants Bowl
." That aside, this game shows two spread offenses that will run wild in the Louisiana Superdome. Cincinnati can prove skeptics of its talent and remain unbeaten, while Florida tries to forget the SEC Championship game ever happened. We knew Florida -- or rather the loser of the SEC Championship game -- would make it to this game, but Cincy was a slight surprise.
TCU would have been intriguing and with Utah's surprise-win against Bama last year, another non-BCS team beating a biggie from the big bad SEC would have been an entertaining story. Fllorida's
top-five defense
and Cincy's
sixth-ranked scoring offense
definitely makes this a must-watch.
http://www.flickr.com/photos/cipherswarm/ / CC BY-SA 2.0
Virginia Tech against the Kansas Jayhawks in the 2009 Orange Bowl.
The Fed-Ex Orange Bowl (Tuesday, January 5)
Number 10 Iowa (10-2, at-large) vs. Number 9 Georgia Tech (11-2 ACC Champion)
This is an interesting game because it usually puts the winner of the Big East vs. the winner of the ACC Championship. Georgia Tech at least belongs here, as they won the ACC. In his second year at GT, head coach
Paul Johnson
's option offense will have a major test against the Big Ten runner-up Iowa. Averaging 300 yards per game and the second-ranked rushing attack in the country should be a sight to see as they face a stingy Iowa defense that allows just 122 yards per game. In its first BCS bowl game since 2003, Iowa comes in after two disappointing losses this season to Northwestern and Ohio State.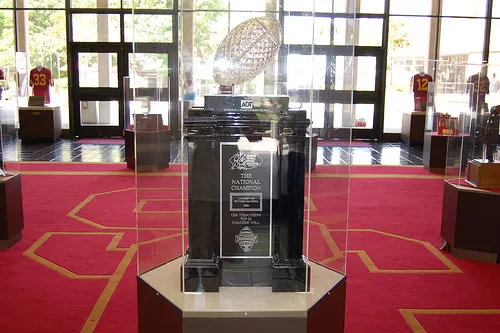 Citi 2010 BCS National Championship Game (Thursday, January 7)
Number 2 Texas (13-0 Big 12 Champion) vs. Number 1 Alabama (13-0 SEC Champion)
In just three short years, Nick Saban, upon his return to college football to coach one of the most storied and tradition rich teams in the
FBS
, he has turned Alabama into a powerhouse. Saban is now returning to National Championship game after winning one already with LSU. He'll now have a chance to join Bear Bryant and Gene Stallings in the Crimson Tide record books. Texas coach Mack Brown, also a Championship-winning coach, is in search of a second title at the venue where he won his first.
Going into the final week of the season, it was widely believed the SEC champ would play Texas, assuming the Longhorns could win the Big 12 title game. The Longhorns' struggles gave hope to TCU and Cincinnati, a false hope. The Longhorns, after getting strong support in both the Harris and coaches polls, moved up to Number 2 in the final standings, giving them a berth in the championship game.
Kevin Coll is an avid blogger who owns FusedFilm.com, where he writes on entertainment news. Follow him on twitter @kent21685 and @fusedfilm.