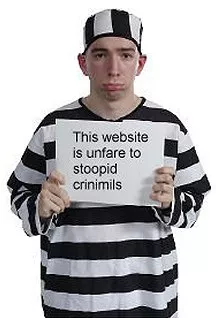 In America's justice system, sometimes the innocent are proven guilty, sometimes the guilty are found innocent, and sometimes the guilty are so monumentally stupid that they defy all logic and common sense and make you wish for the ability to skip the trial completely and just slap them repeatedly until they get some sense in them.
Guess which sort of cases we're dealing with in this blog post?
Now then, with the court of public opinion now in session, let's let a jury of honest, unbiased, and anonymous readers decide which clueless local robber had the worst defense for his crime.
Incident Number One: The
Belleville News Democrat
brings us
the story of 20 year-old Christopher W. Haentzler
of Granite City.
Haentzler was arrested yesterday morning after attempting to rob a gas station in Caseyville. He arrived early at 6:30 a.m. and loitered around until he stuck his hand in the pocket of his Tommy Hilfiger jacket and "implied that he had a gun." The clerk called bullshit, told him to leave, then called the cops.
Here's what happened next:
Christopher Haentzler mugshot via bnd.com

When Singleton spotted the suspect walking out of the woods behind the Days Inn, he pulled off the road, got out and bolted after him. The suspect saw the officer and started running away.

"He ran southbound in the grass area along 157, and I chased him 40 or 50 yards and finally caught him," Singleton said.

Officers wrestled Haentzler to the ground and had him in custody before 8 a.m.

Haentzler told police he didn't want to rob the store, but was forced at gunpoint to do so because he owed a man money for several drug deals.

Haentzler said he did not have a gun.

Incident Number Two: The
Post-Dispatch tells
the tale of 27 year-old Mikal R. Muhammed
, convicted yesterday of first-degree robbery, first-degree burglary, felonious restraint and armed criminal action.
Writes the Post:
[Muhammed] was convicted Thursday in an armed home invasion despite his defense that he had no reason to rob anyone because of his blossoming career as a rap music artist. His lawyer showed jurors a photo of Muhammad with rap star Nelly in "Murder Dog Magazine."... Officials said he restrained occupants with duct tape and ransacked a house on Alabama Avenue the morning of Dec. 17, 2007. Police tracked him through a fingerprint on the duct tape. Muhammad, of the 700 block of Walton Avenue, also goes by the nickname "Gube Thug."

The court is adjourned, the jury will now deliver its verdict.