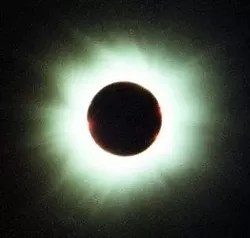 A total eclipse of the sun.
A Missouri judge overseeing a Sunshine Law claim has dismissed the lawsuit in a case that ultimately hinged on the identity of commenters to an online forum.
In January 2007 a group of residents calling themselves
Concerned Citizens for Crystal City
(C4) filed suit against the municipality of Crystal City and developer
Wings Enterprises
claiming that the two violated the state's open-record laws while
hammering out a backroom deal
to build an iron-ore smelter in the Jefferson County township.
Before the lawsuit was filed -- and throughout the past two-plus years -- those opposed to the iron-ore smelter have logged into the
website
of C4 to voice their thoughts and share information. The website allowed users to comment and post information anonymously.
During the course of the Sunshine Law claim, defendant Wings Enterprises won a
court order
for C4 to hand over all information posted on the group's website as well as the identity of all those who've posted comments on the site.
Meanwhile, the administrator for the C4 site --
Jack Ginnever
-- countered that its
registration agreement
stipulated that it would not provide user information to "any third party" and to do so might leave the group open to additional lawsuits.
"There is a legal and moral obligation to abide by that contract because the posters of the forum believe that their identities will be protected," writes Ginnever on the C4 website. "That is the purpose of this forum. If the identities of the users were known they would not have been so open and passionate about their feelings regarding the controversial smelter project in Crystal City."

In an
affidavit in response
to the court order, Ginnever stated that he would be willing to provide the defendants with the the identity of certain commenters if they could convince the court why they were relevant to the Sunshine Law claim.
That argument fell flat to
Judge Benjamin Lewis
who last week dismissed the lawsuit after Ginnever and C4 refused to hand over the identify of all the website's users.
Writes Lewis in his
Nov. 24 ruling
:
"In a simpler time the [C4 website] would have been a box full of letters about the proposed smelter project; letters solicited by plaintiff Ginnever, signed psuedonymously and made available by Ginnever for anyone to read. However, only Ginnever would know the return addresses of the writers. There is no question that in this example those letters and the return addresses would be discoverable."

(Question: Does the judge not know that you can send letters w/o return addresses? Posting content online without leaving an IP address is a bit harder challenge. Ask
stltoday.com editor Kurt Greenbaum
about that one.)
C4 says it plans to appeal Lewis' ruling.
In related news, last month the state auditor
released an audit
of Crystal City which mentioned Sunshine Law violations regarding the smelter. The auditor's report was not mentioning in the judge's ruling.