St. Louis Metropolitan Police Department
officers are asking for the public's help in identifying a a quintet who recently broke into
Adriano Goldschmied
and made off with
more than $16,000 worth of jeans.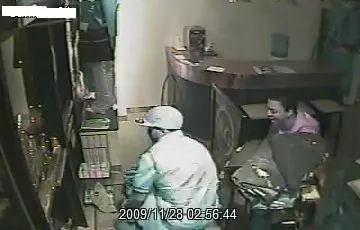 Courtesy of SLMPD
Surveillance footage captured at Adriano Goldschmied on Nov. 28
The men -- described by police as five black males -- busted through the front door of the swank
Central West End
boutique in the wee hours of Friday night/Saturday morning.
Check out the time stamps on the surveillance footage (above and after the jump): They show the crime occurred at 2:56 a.m.
And went down in about 30 seconds.
So how many pairs of denim can five guys haul off in one fell swoop? (Or, how many pairs of jeans would you get if you actually forked out $16,000?)
Answer: 100.
If you can identify any of the burglars, call 1-866-371-TIPS for a chance to win a cash reward of $1,000.
Put another way, that's roughly six pairs of Adriano Goldschmied jeans.
Tipsters may remain anonymous.