Congratulations, St. Louis! No fewer than 59 bank robberies have gone down in the area so far this year.
That tops last year's total of 45 ... but pales in comparison to the 77 heists that local bandits pulled off in 2002 -- a banner year.
Bandittrackerstlouis.com
, a website rolled out this morning by the FBI and local law enforcement agencies, delivers the sobering stats straight to your desktop -- along with a photographic directory detailing recent stick-ups.
Think of it as a Who's Who in Bank Robbery. Only, you supply the "who" via tips sent electronically (or over the old-fashioned blower).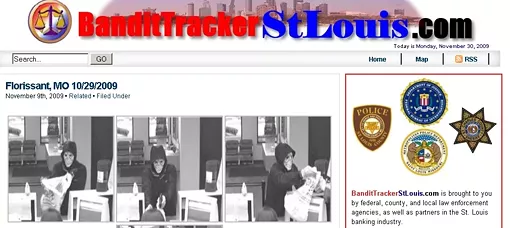 According to a press release from the local FBI office, the public has helped cops finger bank robbery suspects in Dallas, Little Rock and Chicago, thanks to "Bandittracker" websites in those areas.
Besides figuring out which bank near you has been jacked lately, you can enjoy the range of get-ups in favor these days.
Panty hose and ski masks appear to have gone the way of the do-do bird. Robbers in
St. Louis Cardinals caps
are apparently
a dime a dozen
'round these parts.
And that thar' skeleton mask? Captured on surveillance
at 1000 North Highway 67.
Wonder if they'll ever catch
the dude with really bad B.O.