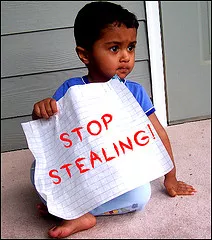 Photo by: flickr.com samiksha / CC BY 2.0
​Ever wonder what ''free" as in "free offer" really means? Of course, we all know that when you get an email with a free offer from some company you've never heard of it's very likely not actually free. That's a given.
But what if the offer came from a company like
Priceline.com
, or
FTD, Continental Airlines, US Air, VistaPrint, Orbitz, Priceline, and Pizza Hut
-- you know, good old fashioned household American brand names? You'd be more likely to at least consider a free offer from one of those right? Well, according to a
U.S. Senate Commerce Committee Report
released last week, you'd be wrong, at least on the Internet.
You see, in the real world we have things like "laws" and "regulations" that prevent companies from doing things like taking your credit card number and passing it on to a third parties that charge you a $10 to $20 a month fee to join some club that you didn't know you joined. You would think that most companies would not do this kind of thing out of just pure honesty and good will, so you will trust them not to steal from you. But as we learned from Senate report, it seems that in an environment where regulation is just a little bit thin, a lot of companies, some of them the trusted brands we named above, are more than willing to pick your pocket for $10 to $20 a month in a scam that netted them several billion dollars over the last few years.
Here is how the scam worked: the above companies and several others partnered with outfits like
Vertrue, Webloyalty,
and
Affinion
to make you a FREE offer -- a coupon or something, after you've made a purchase online. To accept the "free" offer you merely need to input your email address. No big deal, right?
I mean you've always been told that if you don't enter a credit card number then you can't be charged right?
WRONG!
If you happen to read the very fine print on the FREE offer that is ostensibly coming from one of those "reputable" brands you would see that by entering your email address that you are allowing them to pass your payment information to this other company which will charge you a monthly fee to be part of their "free" loyalty program.
A loyalty program 90% of people who signed up for
had no idea
they were a member of -- and these companies, Vertrue, Webloyalty, and Affinion LIKED it that way, according to internal documents obtained as part of a
2007 class action lawsuit
. In fact these same internal documents show that they were constantly tweaking their scam to keep the a high percentage of customers who had no clue they were paying to be in this secret club.
Ok so you might be saying to yourself, "
So maybe these trusted companies weren't actually trying to steal from me after all. Maybe they just were mistaken about what these other companies were doing for them.
" That's where you'd be wrong, because when these companies were asked about this scam they were unapologetic,
offering weaselly explanations and excuses
probably because these scams have become a very profitable sideline for them.
So just a word of warning to you: When you are shopping online this holiday season be very wary of any offers that come to you after you've made a purchase because apparently many companies aren't to be trusted to not pick your pocket after checkout.
Just so you know, here is a list of sixteen companies who have participated in the scam that was mentioned in the Senate Commerce Committee report (this is likely not a complete list of all companies who participated) just so you know who not to trust:
1-800-Flowers.com, Inc.
AirTran Holdings, Inc.
Classmates.com, Inc.
Continental Airlines, Inc.
FTD, Inc.
Fandango, Inc.
Hotwire, Inc.
Intelius, Inc.
MovieTickets.com, Inc.
Orbitz Worldwide, Inc.
Pizza Hut, Inc.
Priceline.com, Inc.
Redcats USA, Inc.
Shutterfly, Inc.
US Airways Group, Inc.
VistaPrint USA, Inc.

Here's that U.S. Senate Commerce Committee report, in-full: