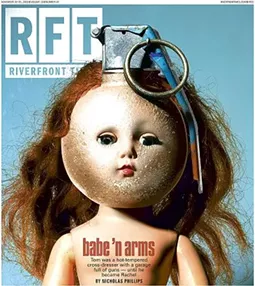 Last week's feature story
regaled you, dear reader, with the unusual journey of Rachel Amratiel
, nee Thomas Hibdon IV -- a Persian Gulf War veteran, carpenter and cross-dresser who pleaded guilty to federal weapons charges after becoming a woman (
kind of a long story
).
We wrote that Hibdon, before the sex-change, would
hole up in his garage and type up a story inspired by the sci-fi fantasy writers he'd read in high school. The novel was supposed to be the first of a nine-part series titled World of Tantaria.

In 2006 he finished book one, Nine Sisters Succubi. It would've run about 350 pages in standard paperback. He never published it, but copyrighted it with the Library of Congress. In the book a male named "Amratiel" and a female named "Ildeya" give birth to a girl called "Rachel."

Well, we now present to you some excerpts from that work. (Remember, this is copyrighted material.)
Here is the poem that begins the book:
Tale of Old Rachel, Version 3
And here are some excerpts:
Nine Sisters Succubi Excerpts