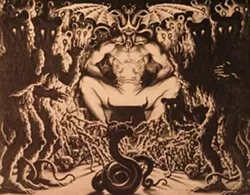 A skech inside a Madison County courtroom.
Earlier this decade Madison County, Illinois, earned the title
"Judicial Hellhole"
thanks to the outrageous number of asbestos cases filed there.
In 2003 alone trial attorneys filed an astounding 953 asbestos claims in the county -- most of which had nothing to do with Madison County other than the fact that the county's court system had favorable jurors and judges who tended to award big rewards to victims.
Then for a couple years, the asbestos claims declined a bit. Now guess what? They're back.
As the
Madison Record lays out this week
, cases alleging mesothelioma (the lung disease caused by asbestos exposure) are rising quick.
Per the
Record
:
Asbestos filings have steadily increased in Madison over the last three years, with new cases filed so far in 2009 exceeding the 2008 annual total. As of this month, 656 new asbestos cases have been filed in Madison, versus the 2008 year-end total of 639.

That's much less than the 2003 peak of 953 filings, but Madison still claims one of the hottest asbestos dockets in the country and seems hellbent on reliving its inglorious recent past.

It's not just friendly and obliging jurors that attract plaintiffs' attorneys to the Edwardsville courthouse. No, it's also a special incentive-to-settle that former Circuit Judge Nicholas Byron added to the "Asbestos Welcome Wagon" five years ago.

Byron issued a standing order in 2004, allowing asbestos attorneys to set trial dates more than a year and a half in advance. Trial dates, as both plaintiffs' and defense attorneys know, prompt settlements - even in thin cases.

Average settlements approach $2.5 million -- a tidy sum for which plaintiffs' attorneys can thank Byron. The rest of us can thank him for helping to perpetuate our reputation as a hellhole.

Two-and-a-half mil per settlement?
Cough, cough. Hello, Brown & Crouppen?