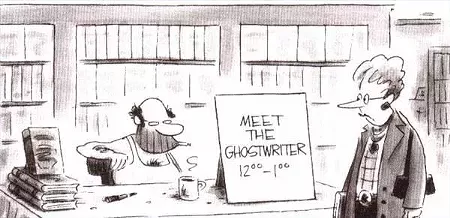 Senator Chuck Grassley (R-Iowa) this week
mailed a letter
to ten of the nation's top medical schools asking for their policies on ghostwriting.
The senator -- the ranking member of the Senate Finance Committee -- has grown alarmed by a
New York Times series
examining how pharmaceutical companies authored studies promoting their drugs. The companies then had medical academics sign onto the reports, making it appear as though the ghostwritten article was authored by a scholar.
Washington University in St. Louis was the recipient of one of Grassley's letters that stated (in part):
Articles published in medical journals are widely read by practitioners and are relied upon as being objective and scientific in nature...Any attempt to manipulate the scientific literature, which can in turn mislead doctors to prescribe treatments that may be ineffective and/or cause harm to their patients, is very troubling.

In hindsight, Grassley may have saved himself some time had he just called Wash U.'s Medical School to ask about it's policy.
That's what
Daily RFT
did this morning. Here is their policy (which can also be
viewed on the school's website
):
Unacceptable Authorship
Ghost or guest authorship is unacceptable and a violation of this policy. A ghost or guest author is defined as someone who made substantial contributions to writing a publication, gives credit for the work to another individual, and whose contributions are not mentioned in the publication.

Honorary or courtesy authorships are inconsistent with the definition of authorship and, as such, are unacceptable and a violation of this policy. A honorary or courtesy authorship is defined as granting authorship out of appreciation or respect for that individual.

Including senior or well-known researchers who do not meet the criteria for an author, also known as prestige authorships, is unacceptable and a violation of this policy.