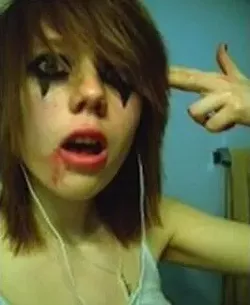 connectmidmissouri.com
Alyssa Bustamante
By now you've heard the story of
Alyssa Bustamante
.
The 15-year-old from outside Jefferson City is accused of digging a grave and then strangling and stabbing to death her nine-year-old neighbor because, according to police, Bustamante
"wanted to know what it felt like"
to kill someone.
Bustamante is clearly a fucked up kid. She suffers depression, routinely cuts herself and tried to commit suicide two years ago. But did you also know that she is "emo"?
What is emo, you ask?
Thankfully we have Channel 5 (KSDK) to explain.
If you missed station's lead story last night on the definition and (possible perils) of the emo lifestyle, you missed some unbelievably earnest -- and unintentionally comedic -- reporting.
Check out the video clip after the jump...