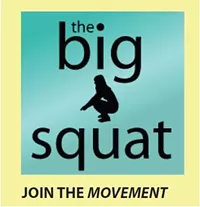 There was a time, like this morning, when Unreal considered Thanksgiving by far the shittiest holiday in November. To put it delicately, there are certain traditional foods that do not agree with our digestive system. (Plus, time in the crapper means desperately-needed time away from our family. And the Detroit Lions.)
But we were, as we are with so many things, definitively proven wrong. It turns out that tomorrow, November 19, is
World Toilet Day
.
Ah yes, we thought, a time to honor the porcelain bowl, which so often sees only our posterior, never our face, unless we've had one tequila shot too many. And that ain't so pleasant, either. Oh, toilet, cold, white and shiny, which has cradled our ass through so many difficult hours, been the receptacle of so much piss, so much shit, and just a soupçon of vomit, we give you our love and our gratitude... (Give us a few hours and we'll concoct a few rhymed couplets in your honor!)
But we were wrong again.
Lots of people throughout the world don't have toilets. According to the World Toilet Day website, "2.5 bilion" [sic]. Instead, they squat. Out in the open. This means they probably have amply-developed thigh muscles. But they also run the risk of attracting viruses and bacteria. And rodents. And accidentally stepping in their own shit. Diarrhea must be particularly awful. And they probably can't get much reading done.
In addition to aesthetics, it turns out shit is a pretty effective disease-spreader. And lots of people, particularly children, die of diarrhea.
And so tomorrow privileged groups of first-worlders will show their solidarity with the toilet-less by joining in the Big Squat, squatting simultaneously for one minute. So far, no St. Louisans have organized a squat, but there are a couple of squatting groups in Chicago. (Washington, DC, currently leads the nation in squatting. We leave it to you to ponder why that may be so.) But you can still
donate money
to the
World Toilet Organization
, which strives to bring toilets to everyone.
We say, why stop there? Unreal will not rest until there is a
Spaloo
in every shitter. In the meantime, we will spend tomorrow lavishing love and care upon our toilet and maybe even scrubbing it which, we must admit, we haven't done in a while.